Young Milnerton trainer Adam Marcus stepped out of the shadow of his famous champion Dad at Kenilworth on Saturday, when he celebrated a dream come true with a memorable first Gr1 success courtesy of the diminutive Captain Al filly Missisippi Burning who stormed clear to score a dazzling victory in the R1 million World Sports Betting Gr1 Cape Fillies Guineas.
Following one of the toughest professions on earth for just over 6 years now, Marcus took out his trainer's licence at the relatively tender age of 22, going on his own at 23, under the watchful guidance of his champion jockey Dad, Basil.
Guineas day has previously been a happy one for the young man – it was on this day in 2016 that he saddled the much loved and sadly ill-fated Royal Badge for victory in the Gr3 Cape Summer Stayers Handicap.
Saturday was pure champagne stuff again – this time at a much higher level, with a Gr1 and Gr2 trophy safely on the Marcus family mantelpiece. It doesn't get too much better!
And he defied some traditional text-book guidance in the process, throwing his little filly into a mile at Gr1 level straight out of some superb sprint form.
Greg Cheyne brought Pretty Young Thing came across from the worst draw to lead, followed by Third Runway, and Castellano.
Anton Marcus had the fancied Kelpie off the action as Third Runway played her catch-me-if-you-can tactics up front.
At the 300m it was race over though as Zackey unleashed Missisippi Burning down the inside rail in the Mario Ferreira silks.
Missisippi Burning (22-1) cruised on past Third Runway and with Craig Zackey combing his hair for the lifetime photo moment, she went clear to win by three lengths in a slow time of 100,33 secs  (the Green Point a half hour earlier was run in 97,46 secs with Driving Miss Daisy (14-1) staying on best for second.
Glen Kotzen and his connections will be thrilled with the performance of Western Cape Fillies Championship winner Third Runway who stayed on dourly to maintain her top notch form-line.
Stablemate to the runner-up, Larentina (10-) banked the fourth cheque, with Drama Queen (22-1) and the 21 favourite Kelpie next best.
The Gauteng raiders True To Life and Cockney Pride were the two highest rated fillies in the race,'
The relatively unexposed Missisippi Burning (97) humbled them with True To Life (117) finishing 9th and 6,90 lengths back, with Cockney Pride (110) 10,25 lengths back in 15th spot.
Bred by Rathmor Stud, Missisippi Burning was another Cape Fillies Guineas winner for champion Captain Al (Al Mufti) and the first since Justin Snaith's 2017 winner Snowdance. Prior to that the same champion yard's Captain's Lover won in 2007.
The winner is out of the multiple stakes-placed Hussonet mare Spitfire Lady, who won four times in Australasia.
Missisippi Burning, a R380 000 National Yearling Sale graduate, has won 4 races with 2 places from 7 starts for stakes of R794 052.
Stipes report excerpt:
a) MISSISIPPI BURNING was stubborn loading.
b) FLAME TREE and CASINO QUEEN jumped slow, losing one length
.a) In view of the report from the starter regarding MISSISIPPI BURNING (C Zackey), this filly's starting stall certificate has been withdrawn and she is suspended in terms of Rule 61.6.10 and until such time as she proves to be tractable on a racecourse with a companion. Suspension dates: 15/12/2019 to 21/12/2019 inclusive). MISSISIPPI BURNING may not be presented for re-passing during this period.
b) In a tightly bunched field, ROLL IN THE HAY (R Khathi) eased of the heels of MISSISIPPI BURNING (C Zackey), resulting in CASINO QUEEN (R Fourie) and FOLLOW THE STAR (C Murray) having to steady            
c) DRIVING MISS DAISY (D Dillon) was hanging out from the 300m.
d) MISSISIPPI BURNING, the winner, was selected for the taking of specimens for analysis. Trainer AN Marcus was advised. (SC)
e) DRIVING MISS DAISY, the second placed horse, was selected for the taking of specimens for analysis. Trainer AE Sands was advised. (BM)
a) COCKNEY PRIDE – overreach right fore.
_________
Gr1 Cape Fillies Guineas (SAf-Gr1)
Kenilworth, South Africa, December 14, R1 million, 1600m, turf, good, 1.40.33
1 – MISSISIPPI BURNING (SAF), 60.0, b f 3, Captain Al (SAF) – Spitfire Lady (AUS) by Hussonet (USA). Owner Mr M J A Ferreira; Breeder Rathmor Stud; trainer AN Marcus; jockey C Zackey
2 – Driving Miss Daisy (SAF), 60.0, b f 3, Master Of My Fate (SAF) – Shedrivesmecrazy (SAF) by Tiger Ridge (USA)
3 – Third Runway (SAF), 60.0, b f 3, Gimmethegreenlight (AUS) – Outrage (SAF) by Black Minnaloushe (USA)
Margins: 3.00, 0.30, 0.40
‹ Previous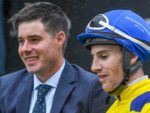 It's A Young Man's World