According to the handicappers the local hopes won't get a look in when it comes to Saturday's World Sports Betting Cape Fillies Guineas.
The Johannesburg-based Magnolia winner True To Life is rated seven points clear of the next best, Cockney Pride, who is also trained at the Vaal.
"They say that every year," says Glen Kotzen dismissively. "What I say is let them come."
The Woodhill trainer, successful with Princess Victoria eight years ago, trains a quarter of the 16 runners including Third Runway who won the Western Cape Fillies Championship (often the best trial) in some style and was many people's idea of the likely winner until the draws came out, writes Michael Clower.
But on Saturday she will line up with only two outside her and confidence considerably diminished.
"I am not going to moan because Brett Crawford has two wider than me," Kotzen says philosophically.
"She is really well and absolutely flying at home but obviously we are going to have to get lucky. She needs to get out and be handy but that's never easy in a Group 1 when a lot of them are going to chase.
"The good news is that she has beaten a lot of the Cape Town fillies and our other three are also really smart. Castellano only ran four lengths off them in the Group 1 Thekwini and put up a magnificent gallop the other day. I think she is a big runner. Dynastic Light is working exceptionally well and all Follow The Star has been waiting for is the summer course. She is flying at the moment."
Morne Winnaar, who has formed a supremely effective partnership with Kotzen in recent months, is the man faced with the task of getting Third Runway across. "I will need a bit of luck because the guys that are drawn well are not going to give up their positions," he concedes. "But she was well away last time, she is a straightforward ride and you can put her anywhere."
Third Runway is 15-2 and True To Life is favourite at 7-2 but many people's idea of the winner is 13-2 shot Kelpie. You couldn't fancy her on her rating, 9kg behind the favourite, but she has won her last four and she was most impressive on the most recent of them, coming right away in the final furlong to win by over four lengths and with ease. She will be ridden by Anton Marcus who has won two of the last three runnings and is trained by Brett Crawford who has won this twice before.
"I think she is the improver of the race," says the Philippi trainer with masterly understatement. He also runs two others, both badly drawn. "The one thing in Flame Tree's favour is that we are back on the summer course with it's longer straight. We will be able to ride her giving her a little bit of a chance. This is something we are probably going to be forced to do from her 16 draw and I think we have to do the same with Pretty Young Thing (drawn 17)."
Driving Miss Daisy and Larentina were fourth and fifth in the Western Cape Fillies and there are grounds for believing that they will at least finish closer, particularly as Larentina did not get an entirely clear run.
"Driving Miss Daisy had an even worse run and they were both drawn wide," points out Eric Sands who won this with Perfect Promise in 2002. "This time they have good draws (one and three) so we will see how good they are but from the point of view of wellbeing and prep everything has gone 100%."
Roll In The Hay was two and a half lengths third in the Western Cape Fillies and apparently not too much notice need be taken of her failure in a sprint handicap 11 days ago. "She didn't want to go through a gap," says Candice Bass-Robinson. "There is a question mark about the mile but she has a good draw and she has a money chance."
Piere Strydom flies down for the mount on Drama Queen and Aldo Domeyer, successful on Silver Mountain four years ago, partners Sailing Ship.
"I don't think you can ignore Drama Queen. She was drawn badly in the Western Cape Fillies and got into a lot of trouble but she didn't finish too far back. Sailing Ship also didn't get a great run in that race and, although she is not drawn well at 12, I think she will go well."
‹ Previous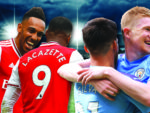 English Premier League