A colt by champion sire Redoute's Choice topped the night as records tumbled with the Book One section of the 2020 Magic Millions Gold Coast Yearling Sale coming to a close on Saturday night.
The auction returned a record gross and sale average and surpassed last year's auction as the highest grossing yearling sale in Southern Hemisphere history.
Saturday night's star was Lot 877 – Arrowfield Stud's Redoute's Choice colt from Traceability who sold to Aquis Farm for A$900,000.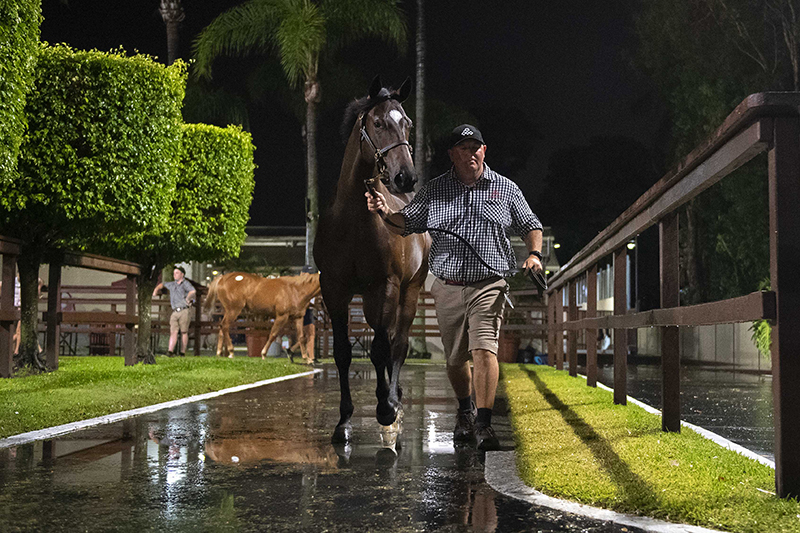 The colt is a three quarter brother to Gr1 winner Master of Design and stakes winner Traces and a full brother to the stakes performed Spring Loaded.
The colt cemented Arrowfield Stud as the leading vendor of the sale by gross with their 54 lots selling for just shy of A$16 million. Arrowfield also rounded out Book One with the sale top seller – the Deep Impact colt from Honesty Prevails finishing top of the table at A$1.9 million.
Redoute's Choice rounded out second on the leading sires table (for three or more lots sold) by average at A$451,429 – only shy of I Am Invincible who averaged A$482,024. Coolmore's record breaker American Pharoah was the leading first season sire averaging a cool A$350,000 for 20 lots sold.
Hawkes Racing, who purchased the Day Three top seller on Friday for A$1.8 million, was leading buyer on spend – outlaying A$7.465 million on 17 lots.
Another highlight of Saturday night was the generous donation to the Bushfire Appeal from Victorian breeder Sean Duke contributing A$100,000 of the A$160,000 sale price of Lot 869.
That donation pushed the total funds generated by Magic Millions' vendors, friends and the general thoroughbred community who raised an impressive A$1.1 million.
Across the four days of the Book One sale A$177,407,000 was traded on 709 lots sold at an average price of A$250,221. The clearance rate sits at over 87 per cent.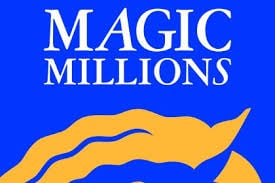 "It's been an amazing sale really," Magic Millions Managing Director Barry Bowditch said following the closure of Book One.
"I've mentioned depth a lot this week, but the depth, diversity and strength at all levels of the market – the middle market especially and to retain an almost 88 per cent clearance.It's just a fantastic result. For the first time ever to have a quarter of a million average at this sale, given the sale has 888 lots in it, it's an awesome result. Obviously there's a lot of faith in the horses we have here in the complex. Vendors have supported us with as strong a catalogue as we have ever had and they have been very well rewarded for doing so. Leading into the sale, a lot of the buyers were very positive about the catalogue. Around the complex, heading in, everything was positive from the buyers' perspective. Vendors, since the sale has been going on, have been very positive, they have been able to find buyers for their horses."
Day Five of the Gold Coast Yearling Sale, comprising a quality Book Two catalogue commenced on Sunday.
To view the results and to make an offer on a passed in lot click here.
SALE STATISTICS
(2019 in brackets)
Lots Catalogued: 888 (888)
Lots Sold: 709 (707)
Lots Passed In: 102 (99)
Lots Withdrawn: 77 (82)
Top Price: A$1,900,000 (A$1,700,000)
Sale Gross: A$177,407,000 (A$169,545,000)
Average Price: A$250,221 (A$239,809)
Median Price: A$180,000 (A$170,000)
Sold %: 87.4 (87.7)
DAY FOUR TOP SELLERS
A$900,000 – Redoute's Choice-Traceability colt (Lot 877)
Vendor: Arrowfield Stud (As Agent) / Buyer: Aquis Farm (Qld)
A$825,000 – I Am Invincible-Tai Tai Tess colt (Lot 840)
Yarraman Park Stud (As Agent) / Mulcaster B'stock/Harras Syndicate (NSW)
A$675,000 – American Pharoah-Tsaritsa colt (Lot 882)
Attunga Stud (As Agent) / Spendthrift Australia Pty Ltd (Vic)
A$600,000 – Snitzel-Squandered colt (Lot 804)
Baramul Stud / Ciaron Maher Racing (Vic)
A$575,000 – American Pharoah-Starfish filly (Lot 808)
Coolmore Stud (As Agent) / Adam Brandwood/Anthony Panozzo/Matt Laurie Racing (Vic)
LEADING BUYERS
(ranked by total spend)
A$7,465,000 – Hawkes Racing – 17 lots
A$6,605,000 – Gai Waterhouse & Adrian Bott Racing – 25 lots
A$5,815,000 – Aquis Farm – 11 lots
A$4,700,000 – James Harron B'stock – 10 lots
A$4,305,000 – Tom Magnier – 7 lots
LEADING SIRES
(ranked by average – 3 or more sold)
A$482,024 – I Am Invincible – 42 sold
A$451,429 – Redoute's Choice – 7 sold
A$398,542 – Exceed and Excel – 24 sold
A$350,000 – American Pharoah – 20 sold
A$344,531 – Not a Single Doubt – 32 sold
LEADING VENDORS
(ranked by gross)
A$15,955,000 – Arrowfield Stud – 54 sold
A$13,760,000 – Yarraman Park Stud – 28 sold
A$9,890,000 – Coolmore Stud – 44 sold
A$9,665,000 – Newgate Farm – 46 sold
A$9,200,000 – Widden Stud – 32 sold
LEADING VENDORS
(ranked by average – 3 or more sold)
A$520,000 – Cressfield – 8 sold
A$491,429 – Yarraman Park Stud – 28 sold
A$418,571 – Strawberry Hill Stud – 7 sold
A$375,556 – Milburn Creek – 9 sold
A$372,143 – Segenhoe Stud – 21 sold
‹ Previous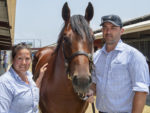 New Record Yearling