Brett Crawford saddled Principessa to win the Ardmore Jamaica Handicap at Kenilworth on Friday.
Here are his comments for his runners at the same venue today as given to Tabnews.
Race 3:
Pannington: Improved second start despite being green. He can run into the Quartet.
Race 4:
Pacific Trader: In good form. His next start is the Cape Flying Championship and he will improve. But he's a terrific five-furlong (1000m) horse and has to be respected.
Bold Respect: Very pleasing comeback run. Has had a lot of issues but is now sound and well.
Race 5:
Charles: Doing very well and has a decent chance on handicap terms, despite a terrible draw.
Dynasty's Blossom: She has her first run for me and I am still learning about her, but she looks very well.
Race 6:
Front And Centre: Things didn't pan out for her in Durban, but she is in great form and has had a perfect prep. I make her the one to beat.
Water Spirit: Scratched
Race 7:
Undercover Agent: He's in peak form and looks outstanding, but it's a helluva tough race. Realistically I would be delighted if he finished in the first three.
Race 8:
Gimme One Night: He obviously stays well and is doing well at home. He will run his usual honest race.
Princess Irene: Expecting an improved run over the trip.
Race 10:
Regimental: He showed us a lot of ability and has now been gelded. You can expect him to improve on his recent efforts.
‹ Previous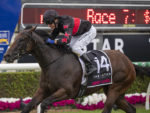 Lady Owners Bank The Big Bucks