Dual Northern Cape Champion trainer Corrie Lensley expects to saddle his first runners out of his new Milnerton base on 25 February.
The lifetime horseman will retain his highly successful Flamingo Park yard as a satellite base.
Speaking to the Sporting Post Digest on the eve of his and wife and Assistant Trainer Emmie Le Grange's 'great trek' South in a few weeks, the uber positive Corrie said it's never too late in life to take up new challenges and break out of one's comfort zones.
"I was offered the boxes at Milnerton and the step is a strategic one for my business. I have trained plenty of winners on the turf in Gauteng and at Bloemfontein in the old days, so I probably won't be needing any coaching," he laughed as he stressed at the same instance that he wasn't making the move with 'stars in my eyes'.
A twice Northern Cape Champion, and current leader on the local trainer's log, the vastly experienced Corrie says that he is under no false illusions about the poser of boxing amongst some of the best trainers in South Africa.
It will be business as usual in Kimberley and he and Emmie will be commuting between the two yards.
The bright lights of Cape Town are a world away from the farming community of Ellisras where he grew up.
"Luckily there is no time to socialise – training horses is a 24/7 occupation, so I'm not concerned about being a square peg in a round hole in the dance clubs in the big city," he laughed as we asked him how the move came about.
"KR Chairman Robert Bloomberg and his colleague Jonathan Snaith were so accommodating and extended what I felt was a genuine hand of friendship. I realise that they need to bolster their fields, but I also believe the opportunity came at the right time for me. If one doesn't try something new, how will one ever know the outcome?" he suggests.
Obviously the Northern Cape Racing shake-up has influenced Corrie.
2019 was a forgettable year for the long established jurisdiction. But he doesn't believe there is any danger of racing ceasing to exist there.
"I was amazed with the manner in which the locals united when we were threatened with closure. People who had previously been our detractors put their hands up in support. Who knows what the future holds? But I honestly cannot see Flamingo Park disappearing from the SA landscape. It's too much of a strategic component," he adds.
Corrie has 33 boxes to fill at Milnerton.
He has some lovely youngsters on the farm, bought for him by his loyal clients, and he will be taking some suitable horses down with him.
"In this age of cut-throat competition and general negativity, I have been bowled over by the words of kindness, support and encouragement that I have received from future colleagues, breeders and owners, and people I hardly know. It gives one a sense of hope for the sport, despite all the challenges around us."
While the 21st century Milnerton is no Summerveld or Randjesfontein, Corrie says that for him the new stabling will be something of a step up in the world.
"I love the boxes at Milnerton. They are so spacious compared to my 'matchboxes' at my present home-base. And we have sand to train on, too! One only fails to appreciate things when you take them for granted sometimes," he muses wisely.
Corrie got into racing via his uncle, Boet Horn, a farrier and small-time trainer.  His uncle introduced him to Pat Shaw's father, Bernie and Charl du Toit, who trained for Frik Kroon.  He says that his love for racehorses comes from old school conditioners like Willie de Beer and Nick Joubert.
Ironically, like some older Cape trainers came through the Cape Hunt ranks, Corrie cut his teeth in bush racing. He says it is nothing like the perceptions that some people project.
He joined Bill Human, first as a stable employee and then as an assistant. Seventeen years ago he trained from Bloemfontein before moving to a private facility in Potgietersrus, raiding to Bloemfontein and Kimberley.  "I used to drive my own truck.  It was 780km there and 780km back, but I wouldn't have done it unless I enjoyed it."
The rest is modern Flamingo Park history and the Cape rush-hour traffic should be a walk in the park for him!
Corrie has open boxes – email him at [email protected]
Read more – click on the image below

‹ Previous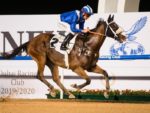 Like Vardy? Try Waady!