Do It Again, described by Justin Snaith a week ago as no better than 50:50 to make the Sun Met, has made remarkable improvement and now looks like running in Saturday week's Kenilworth highlight.
Snaith explained to Michael Clower: "A lot of horses in South Africa become biliary carriers after getting bitten by a tick and we now think there is a small chance that Do It Again was carrying it in when he ran in the Queen's Plate.

"Also he is not a good doer – he just eats as much as he needs – and this is why we don't run him a lot. But there has definitely been improvement [in the last few days] and he is now looking better than he did before the Queen's Plate."
Do It Again's poor recovery from his Queen's Plate run may have been because he is a carrier of biliary, the equine version of tick fever.
‹ Previous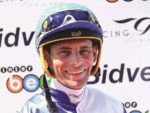 Lerena – 'Moore Doesn't Know The Bridge'