Champions respond well to criticism, especially when they perceive it to be unjust, and Gavin Lerena proved this at the L'Ormarins Queen's Plate festival over the weekend, emerging as the joint-leading jockey despite a limited number of rides.
Gold Circle report that in a festival panel discussion last week one of the panelists, well known racing man and jockey's agent Rob Champion, said, "Sadly I don't follow Gavin Lerena much in the Cape as his strike rate is pretty poor outside of Jo'burg."
Lerena responded by having a one hundred percent strike rate on Friday, booting home the Harold Crawford/Michelle Rix-trained 18/10 favourite Bold Diva in the third race and later romping home in the main race, the Grade 2 Cartier Sceptre Stakes over 1200m, on the Sean Tarry-trained champion filly Celtic Sea, who was backed into even money.
On Saturday Lerena had six rides and two winners.
His first win was aboard the Sean Tarry-trained star Chimichuri Run, who downed fellow Grade 1-winning sprinters Pacific Trader and Kasimir in a Pinnacle event over 1000m where he started 3/1 third favourite. Lerena later won on the Dennis Drier-trained Cabo De Cruz, who started 11/2 favourite.
He thus had a 50% strike rate over the two days.
Richard Fourie also rode four winners over the two days, but had 16 rides.
In Champion's defence, Lerena had never previously enjoyed a particularly high strike rate in Cape Town.
He had not ridden a winner in 12 previous rides this season and his Cape Town strike rate in the 2018/2019 season had been two winners in 34 rides for a strike rate of 5.88%. His strike rate in the 2017/2018 season was 33.33%, one winner from three rides.
Lerena's last three seasons have been blighted with injury and illness, making it tough for him to establish relationships with trainers and horses outside of his home province.
Furthermore, it is not unusual for a top out-of-province rider to have a low strike rate in Cape Town, where the top yards dominate and have their established jockeys. Twice SA Champion jockey S'Manga Khumalo's strike rate in Cape Town this season, for example, is 3,77% (two winners in 53 rides).
Lerena did have isolated seasons with fair strike rates in Cape Town last decade.
In the 2011/2012 season he had an 18.18% strike rate in Cape Town (six winners from 33 rides), in 2014/2015, which was his national championship winning season, he had a strike rate 10.7% (three winners from 28 rides), and in the 2016/2017 season he had a strike rate of 12% (three winners from 25 rides).
His strike rate in Cape Town this season rose from 0% to 20% over the weekend.
Lerena dedicated his win on Cabo De Cruz, his last ride of the meeting on Saturday, to Rob Champion so the criticism had obviously stung him.
South African sportsmen are famous for being at their best when their backs are to the wall and in an industry which is notoriously shy to criticise Rob Champion might well have inadvertently unearthed the way to get the best out of our jockeys!
‹ Previous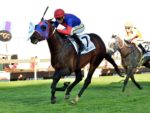 Sun Met – 22 Remain