Ryan Moore has an international schedule as extensive and wide-ranging as an airline pilot in the days leading up to his first experience of Kenilworth in Saturday's Sun Met.
On Saturday he was in Florida to partner the Aidan O'Brien-trained Magic Wand in the Pegasus World Cup Turf International Stakes (he was second) and on Monday he rode More Than This in the Classic Mile at the big Chinese New Year meeting in Hong Kong, replacing Karis Teetan who had won all his three rides on the horse.
Michael Clower writes on www.goldcircle.co.za that from there he goes to Saudi Arabia to ride work on horses entered for the world's richest horse race, the $20 million Saudi Cup on February 29.
Only after that can he set his sights on the Met.
"I hope he will get a chance to sit on Rainbow Bridge before Saturday but, if not, he is a professional and he knows what to do," says Eric Sands who seems likely to show him extracts from Garth Puller's fascinating interview with David Thiselton on the challenges facing Moore in the Met. This appeared in the Daily News last week and former champion jockey Puller, who won the Met three times, is Sands' former brother-in-law.
Puller made specific reference to the interference problems caused by all the jostling for position in the early stages. "The reason is because jockeys want to find cover from the South-Easterly wind. They have that in mind from the jump and, with everybody trying to hide from it, the field takes some time to sort itself out."

Indeed the South-Easter is the reason why most Cape Town trainers regard 'Thou shalt not go three wide' as the 11th of the Ten Commandments (and more important than most of the others!) whereas in many parts of the world covering a bit of extra ground is often regarded as preferable to getting boxed in, or using up valuable energy by having to check and ease back in order to get a run.
Puller has no doubt that Moore will listen to what Sands has to say and adapt accordingly.
"I have watched Ryan ride and he is definitely one of the best five jockeys in the world. No new track or horse will make any difference to him. Also he is not the sort of jockey who is going to ride the horse blind. He will watch the re-runs and probably give the horse a blow-out beforehand."
‹ Previous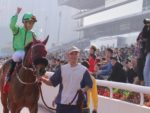 Coronavirus Chokes Hong Kong Racing