The Kenyan horseracing authorities are battling to fill fields and are looking for sound horses which may have found their place locally, and which SA owners or breeders are willing to part with as a donation.
Horseracing in Kenya is 115 years old but the sport in the beautiful country in the African Great Lakes region of East Africa has taken strain in recent years, like so many jurisdictions globally.
Kenyan buyers have visited South Africa over many years to attend our various sales, with a focus on the National 2yo Sale. They were guests of the TBA's then Sales Manager, Caroline Simpson, whom they speak very highly of.
South Africa has  historically been a quality supplier of horses that have gone on to great things in Kenya, and a call has gone out to breeders and owners to consider rendering support again.
Pirates Coup ( Lizard Island/Secret Odds) was brought from Cathy Martin at Hadlow Stud by Tom and Gilly Fraser and she started the ball rolling, winning many races. She won the 2008 two year old  Breeding Futurity Stakes and later went on to be the first SAF bred horse to win a classic race in Kenya in 2009 when she captured the Fillies Guineas.
Today she is a top-class broodmare at Bruce Nightingale's Kenana Farm.
The current crisis is that the Kenyan racing authorities are battling to fill fields and are looking for sound horses which have found their place locally and which SA owners or breeders are willing to part with as a donation
"The survival of Kenyan racing is important to African racing as a whole, and, while we obviously can't fill an order for a dozen horses, we intend assisting. I recall Freewheeler, who was bred here at Summerhill and sold to the Spencers at our School Sale. He won 14 from 14 in Kenya," said Mick Goss as he indicated his support in a chat to the Sporting Post earlier this week.
Longstanding Kenya racing man Tom Fraser confirms that the Jockey Club Of Kenya will sponsor the air-freight. It costs approximately $10 500 for a pallett of three horses.
"I have been in touch with Riaan Oosthuizen of Roost Freight services and I am currently working on a sponsorship programme. Roxy Ellis is also putting a plan down for us with the JCK Directors approval. She is also looking at a road transport option. We will be arranging additional fund-raising to assist the effort to increase our horse population," said Tom.
When taxed on the profile of horse that would suit them best, Tom says that they are not fussy.
"Most of the SA horses that we have bought have won here. I'd say ideally, but not restrictively, we would be looking at 3-4 year old sound fillies and colts that have not featured, or are just surplus to requirements for owners. We can provide the alternative of a second track career in a nation that loves horses. History has shown that the ordinary formless horse in South Africa can become a super-hero overnight here at Ngong."
Tom has invited owners to email JCK Chairlady Mim Haynes at miriam@lesukut.co.ke, without obligation, to chat about the concept and the logistics.
Tom can also be contacted on floriculture@africaonline.co.ke by any passionate horse owners who wish to contribute and help support the 'Kenya Freight Fund', together with the JCK, to bring in their horses.
"We couldn't even attempt to undertake this exercise without the assistance of so many kind people, including Gold Circle's Graeme Hawkins, Klawervlei's John Koster and Grant Knowles, as well as Mick Goss and Megan Romeyn of Summerhill Stud," added Tom Fraser in closing.
Read more – click on the image below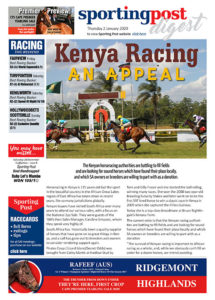 ‹ Previous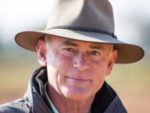 Woodruff First-Timer Worth Including