A decisive victory in Sunday's Listed Michael Roberts Handicap at Hollywoodbets Greyville has seen Brett Crawford's G G's Dynasty's rating increased from 100 to 103.
The race was scheduled to take place at Hollywoodbets Scottsville. However, due to heavy rains in Pietermaritzburg, was relocated to Greyville.
The Handicappers agreed that ultra-consistent third placed BORN TO PERFORM made for the correct line horse, which of course means that his rating remains unchanged, but runner-up TRISTFUL goes up from 108 to 109.  Fourth placed BLACKBALL also runs to his mark despite some traffic difficulties and also remains unchanged.
Several horses were given a rating's drop.
SILVER ROSE goes from 104 to 103, AMOR ARDIENTE is down from 98 to 97, DARK MOON RISING was trimmed from 114 to 113, NOBLE JOSHUA drops from 98 to 96, TOMMY GRAND is down from 89 to 85, and MARCHINGONTOGETHER goes from 114 to 111.
Press release published by NHA on Monday 20 January 2020
‹ Previous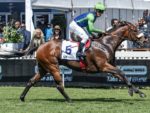 Fox Takes On Kasimir