Retired KZN Racing Executive Colin Aitken is 74 years old and happily retired down Durbanville way.
A recent heart attack didn't stop him from visiting his son in Malaysia in December.

But he says the stress of simply trying to purchase a L'Ormarins Queen's Plate day racecard on a quiet Thursday afternoon had him saddened at the way racing treat its customers.
Colin says that if he was only 30 years younger, he would get involved and try and make a difference.
"My age will tell you I'm old school. We always loved our racecards on the big day. That little mine of information, with the photo of the Queen on the cover – the distinctive glossy print and that unique exciting smell that shouted 'there's big racing on Saturday'. Your readers are probably asking what this dinosaur is on about," he laughs.
After a few phone calls to Kenilworth and with little apathy or interest anywhere along the line, Colin landed up at the Brackenfell tote.
He and his 18 year old son tried to get through the front door but were blocked by a massive security gate. An imposing security officer barked an order – 'turn your cap around'.
Colin asked the gentleman why he needed a lesson in how to wear a cap at his age.
His son was more on the ball and explained that it was probably for the cameras – security reasons.
The youngster, who is 18, was denied entry – just because. No negotiation. No 'this is how it works'. No, 'can we see your ID, sir'. Nothing.
"Good grief, I thought. Here I am. I love the game. I'm traumatized. All I needed was a racecard. No smiles. No friendly approach. Is this SARS, Home Affairs – or horseracing? I eventually picked up a Winning Form. I left quickly. I had just experienced horseracing's shop window. The chances of looking after two customers, or even picking up a new one have got to be zero in this environment."
Colin suggested that a host or hostess wearing a sash and a smile could have made all the difference.
"There wasn't an ounce of customer friendliness in the experience of simply trying to get a racecard. The tote was quite full. Why wasn't there somebody there to extend an element of warmth and maybe encourage me with half a chance of ever coming back?"
‹ Previous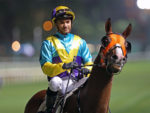 Another Happy Double For Van Niekerk