The all time record price for a yearling by star sire Exceed and Excel was set on Day Three of the Magic Millions Gold Coast Yearling Sale on Friday.
The colt from multiple Gr1 winner Platelet was the subject of a fierce bidding battle when he entered the ring and when the hammer fell it was Hawkes Racing who held the bid at A$1.8 million.

The Cressfield bred and consigned youngster is the second foal of his dam who won the Group One Robert Sangster Classic and The Goodwood in Adelaide among 10 wins.
Wayne Hawkes, speaking on behalf of his co-trainer father John and brother Michael, was delighted to snare the youngster.
"Everyone when they saw him was thinking Magic Millions and Golden Slipper," Hawkes said. "I've won two and the old man has won four so we certainly know what it takes to win the Golden Slipper."
"He's just a beautiful, beautiful athlete and that's what you've got to look for. His attitude was outstanding and his pedigree is outstanding."
"What's the one thing that everyone wants – it's a Magic Millions winner that turns into a Golden Slipper winner," Hawkes added. "I haven't won a Magic Millions 2YO Classic – I'd like to here this time next year with this bloke."
The sale capped off a big couple of days for the Darley based Exceed and Excel following Wednesday's sale of his Dream in Colour colt for A$1.1 million to Tom Magnier and another $1 million seller late today.
The Platelet colt was one of three youngsters to sell for seven figures on a successful day of selling.
USA based Marie Yoshida of Asian Bloodstock Services was thrilled to secure her favourite filly of the sale, the sister to Magic Millions 2YO Classic winner Houtzen for $1 million.
Offered by Yarraman Park Stud, as Lot 749, the I Am Invincible filly is from the Reset mare Set to Unleash.
"This is the horse of the sale and we are so thankful and blessed to purchase her," Yoshida said. "I can't believe it."
"You just have to turn and see Houtzen on the wall here as a Magic Millions winner and we can buy her.She will go into training with Peter and Paul Snowden and we are very excited," she added. "They loved her when they saw her and she has the greatest temperament."
The other million dollar lot was Lot 784, the Exceed and Excel colt from the imported Smoke Glacken mare Smokin' Alice.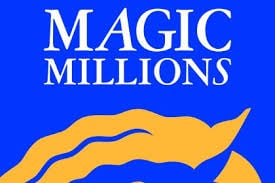 A half brother to the group performer and tomorrow's Gold Coast Magic Millions 3YO Guineas contender Eleven Eleven, the colt was offered by Ian Smith's Edinburgh Park and purchased by Gerald Ryan and David Raphael for A$1 million.
"It's a nice round figure," Ryan said. "It has a nice ring to it.We looked at him on Saturday and we thought dead set he was one of the colts of the sale.He's a lovely, athletic, great moving colt. I've sat back waiting for him.We probably went twice as much on our budget in terms of what we had him at originally," Ryan added. "This guy has got a stallion's pedigree and if he can come back and win a Magic Millions he would be a cheap horse."
Strong sales throughout the day pushed the sale gross to over $158 million and the average price currently sits at $252,113. The clearance rate is over 87 per cent.
"It's just going to another level in my mind," Magic Millions Managing Director Barry Bowditch said of the sale. "It was a really solid day – the average has increased, the clearance rate is healthy and the gross is up some $9 million on last year which is unbelievable and very much unexpected."
"We have got a great group of horses here – the vendors have supported us with their very best yearlings and with that the buyers have come here being able to bid on them in realistic numbers.It should be a solid night tomorrow. After a $10 million raceday there will be a fair bit of excitement in the room," Bowditch added.
To view the sale results and to make an offer on a passed in lot click here
The focus now switches to the Gold Coast Turf Club which will host the $10.25 million The Star Gold Coast Magic Millions Raceday with nine quality packed races on the card.
Following the raceday it's back to the Magic Millions Sales Complex for Day Four of the Gold Coast Yearling Sale with just over 100 lots catalogued to go under the hammer from 6pm (Qld time).
SALE STATISTICS
(2018 Days 1-3 in brackets)
Lots Catalogued: 786 (795)
Lots Sold: 628 (628)
Lots Passed In: 90 (94)
Lots Withdrawn: 68 (73)
Sale Gross: A$158,327,000 (A$149,380,000)
Top Price: A$1,900,000 (A$1,600,000)
Average Price: A$252,113 (A$237,866)
Median Price: A$180,000 (A$170,000)
Sold %: 87 (87)
DAY THREE TOP SELLERS
A$1,800,000 – Exceed and Excel-Platelet colt (Lot 640)
Vendor: Cressfield (As Agent) / Buyer: Hawkes Racing (NSW)
A$1,000,000 – I Am Invincible-Set to Unleash filly (Lot 749)
Yarraman Park Stud (As Agent) / Buyer: Asian Bloodstock Services (HK)
A$1,000,000 – Exceed and Excel-Smokin' Alice colt (Lot 784)
Edinburgh Park (As Agent) / Gerald Ryan/David Raphael (NSW)
A$900,000 – Zoustar-Saga of the Storm colt (Lot 715)
Newhaven Park (As Agent) / Ardross Bloodstock Pty Ltd (WA)
A$825,000 – Sebring-She's Got Gears colt (Lot 762)
Gilgai Farm / China Horse Club/Newgate B'stock/Stonestreet (NSW)
‹ Previous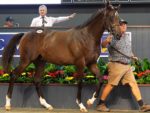 Deep Impact Colt Is Tops