A colt by former champion Japanese sire Deep Impact swept to the head of the top sellers list at the Magic Millions Gold Coast Yearling Sale when he sold for A$1.9 million on Thursday.
Four yearlings sold for seven figures on Day Two including a A$1.5 million filly, but in the end it was the Deep Impact colt who took the honours.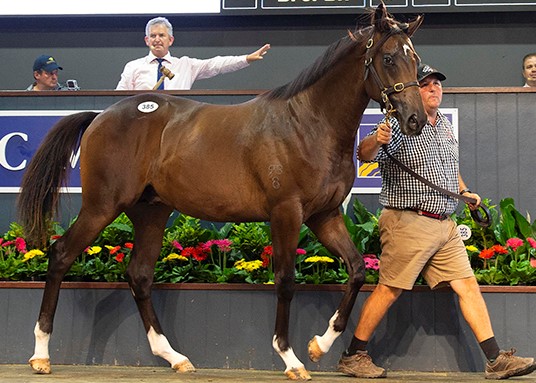 Offered by Arrowfield Stud the colt is the first foal of former Gold Coast Yearling Sale purchase, group winning juvenile Honesty Prevails.
The colt will join the stables of Group One winning Sydney horseman Richard Litt with the trainer outlaying A$1.9 million on behalf of major owner Ottavio Galletta.
"Obviously his pedigree (appealed)," Litt said. "They don't make the Deep Impacts any more.He's out of a really good mare and he's a lovely individual as well.It's amazing to be able to work with the Gallettas. They've given me massive opportunities and now it's my job to deliver."
Arrowfield Stud's John Messara said the colt "ticked all the boxes."
Melbourne based bloodstock agent Sheamus Mills fought hard to purchase his prized filly of the sale, the Written Tycoon-Karuta Queen youngster for $1.5 million.
A flashy filly, just like her Magic Millions 2YO Classic winning mother, the youngster was offered by John Singleton's Strawberry Hill Stud.
She's a half sister to the stakes winner Eawase.
"I'm sweating like you wouldn't believe," Mills said moments after the hammer fell.
"A mill and a half on a filly that in my opinion is as good a yearling not only at this sale – but as good a yearling as I've seen."
James Bester and Tom Magnier teamed up to snare Lot 364 – the Hinchinbrook-Harlem Heat colt from Yarraman Park Stud earlier in the afternoon for A$1.15 million.
The colt is a three quarter brother to the stakes winner Harlem River and is closely related to The Everest winner, the Gold Coast Yearling Sale graduate, Yes Yes Yes.
"From the day I first saw him at Yarraman Park about six weeks ago I thought he was the one," Bester said.
"I couldn't wait for the guys from Ireland to get here and they liked him. He vetted out perfectly and we were determined to get him.He's a really wonderful mover," Bester added. "A real big over step with lovely extension and reach in front. It's seldom you see an animal with that quality that still has the speed look about them."
The Redoute's Choice-Gresset colt offered by Bhima Thoroughbreds today as Lot 354 will head to Rosehill trainer Gerald Ryan after being purchased for A$1.1 million.
Chinese based owner An Zhiqiang, who will be represented by Wisdom of Water in Saturday's $2 million The Star Gold Coast Magic Millions 2YO Classic, held the bid when the gavel dropped.
"He's a great athlete and moves so well," Ryan said. "He's as good a Redoute's Choice colt as I've seen for quite a few years.When I first saw him I fell in love with him.I didn't think we would have to go as high to get him but thankfully Mr An got him and I'm looking forward to training him," Ryan added.
A three quarter brother to South African Group Two winner Honorine, the colt is the second foal of the Hussonet mare Gresset.
After two days of selling, the Gold Coast Yearling Sale gross grew to over A$104 million with an average price of A$249,032 for 419 lots sold. The clearance rate has now grown to over 86 per cent.
"I think today was one of the strongest selling days we have had here at Magic Millions in the history of the sale," Managing Director Barry Bowditch said.
"There's great depth to the market and there's plenty of phenomenal results out there.I think the results as they stand now set us up for a great last two days of Book One," Bowditch added.
Meanwhile, those attending Friday's sale will be able to bid for seven amazing items in a silent auction as part of the Magic Millions Bushfire Appeal.
The silent auction, with items collectively valued at over A$65,000, is located at the back of the auditorium and bidding will end at the close of tomorrow's auction.
To view the sale results so far or to make an offer on a passed in lot click here
SALE STATISTICS
(2019 Day 1-2 in brackets)
Lots Catalogued: 524 (530)
Lots Sold: 419 (412)
Lots Passed In: 66 (72)
Lots Withdrawn: 38 (46)
Sale Gross: A$104,344,500 (A$103,650,000)
Top Price: A$1,900,000 (A$1,600,000)
Average Price: A$249,032 (A$251,578)
Median Price: A$180,000 (A$180,000)
Sold %: 86 (85)
DAY TWO TOP SELLERS
A$1,900,000 – Deep Impact-Honesty Prevails colt (Lot 385)
Vendor: Arrowfield Stud (As Agent) / Buyer: Galletta Construction Co Pty Ltd (NSW)
A$1,500,000 – Written Tycoon-Karuta Queen filly (Lot 434)
Strawberry Hill Stud / Sheamus Mills Bloodstock (Vic)
A$1,150,000 – Hinchinbrook-Harlem Heat colt (Lot 364)
Yarraman Park Stud (As Agent) / James Bester/Tom Magnier (NSW)
A$1,100,000 – Redoute's Choice-Gresset colt (Lot 354)
Bhima Thoroughbreds / An Zhiqiang (China)
A$975,000 – I Am Invincible-Heavenly Sound colt (Lot 371)
Rosemont Stud (As Agent) / Aquis Farm (Qld)
‹ Previous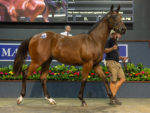 Another Magic Day!