Sunday's Hollywoodbets Scottsville inside track feature, the only stakes feature on the local weekend programme, is run annually in honour of Cape Town-born Michael Leonard Roberts, affectionately known to his legion of fans as 'Muis'.
Each of the races eight races on the Michael Roberts day are named for highlights of his illustrious career.
The first race is the Smyrna Maiden Plate . At 14, in 1968, he won his first race, at Scottsville on a horse called Smyrna.
Twenty years later, at Ascot in the UK, he won the glittering King George and Queen Elizabeth Stakes on Mtoto.
The opening leg of the jackpot on Saturday is the Mtoto FM 76 Handicap.
He won eleven South African championships before his 17 year stint in the UK, where in 1992 he became only the sixth non-British jockey to have won the British Flat Jockey Championship.
Roberts, who now trains out of Summerveld, once described his one and only Durban July winner as the 'pinnacle of his career'. The opening leg of the Pick 6 on Sunday is the Super Quality MR 89 Handicap.
But it almost didn't happen.
The year was 1997.
Roberts' agent told him at the races one Saturday that South African trainer David Ferraris had phoned and offered him a July ride on a horse called North By Northwest. After the races Roberts realised this horse had won the Gr 1 Daily News and was the ruling July favourite.
An excited Roberts phoned Ferraris the next day, but there was bad news. He was informed that stable jockey Weichong Marwing had changed his mind and had opted for North By Northwest.
Ferraris then offered him the ride on his other runner Super Quality, whom he described as a 'game little bugger'.
He recalled the big day: "The worst part was when I was in the parade ring. I saw this tiny little horse walking in. Then I got on him and I couldn't believe how small he was. I thought to myself, oh no, how embarrassing, journeying all this way to ride this horse. I asked the groom if he liked him and he replied, 'No I like North By Northwest, he is a very nice horse.' So my mood was down. But, then he went down to the start like an absolute bomb. I pulled him up at the 2400m mark and Garth was alongside and I remember telling him how good the horse had felt. David had only given me one bit of advice, which was not to bring him through horses, so to try and bring him to the outside."
The rest is history.
Join in the fun at Hollywoodbets Scottsville – first race is off at 12h45.
Click on the image below to purchase your racecard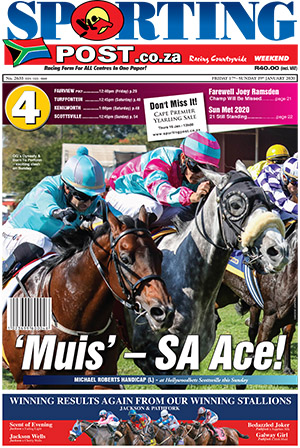 ‹ Previous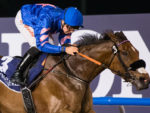 Six Race Card At Meydan Today