Past SA Champion jockey Gavin Lerena has only four rides on Sun Met day but will not ride in the flagship feature.
The decision to jock Lerena off of last year's Met winner Rainbow Bridge and fly in superstar Ryan Moore was widely assumed to be that of the big horse's owner Mike Rattray.
But Rattray explained to Michael Clower on Sunday: "I didn't do anything. I employ my trainer to train my horses and he must make the decisions. Ryan Moore was his recommendation and I told him 'Whatever you decide – it's your business.'"
Sadly Rattray, whose life's mission is to win the Durban July, does not expect to make the Met. The 87-year-old is having problems with his spine and is under doctor's orders to take it easy.
Former champion Lerena was first booked for Rainbow Bridge when Anton Marcus, who had won the Met on him, preferred to ride Hawwaam in the Vodacom Durban July. Lerena was beaten less than half a length by Do It Again in the big one. This season Lerena has ridden the five-year-old to finish third in both the WSB Green Point and the L'Ormarins Queen's Plate.
Eric Sands, explaining the background to the recommendation to replace Lerena, said yesterday that he had not been entirely happy with the way his horse had been ridden in his two races this season.

The decision to get a new jockey was a hard one to take, particularly as he has known Gavin and his father for decades – "But at the end of the day it was about making the right decision for the horse and so I told Gavin that I had decided to make a change. He was more understanding than I expected."
With the doubt about Do It Again's participation Sands spoke to Justin Snaith and Richard Fourie who rode Rainbow Bridge to win the horse's first three races as well as last season's Champions Cup. But the dual July winner's recovery put paid to that.
When Sands spoke to Rattray, the owner suggested Frankie Dettori – "But we couldn't get hold of him. However I knew Jehan Malherbe had a link to Ryan Moore who is, if not the best jockey in the world, certainly one of the top four. So I spoke to Jehan about getting him."
Lerena said Sunday: "The Met was Rainbow Bridge's mission and to be jocked off when the horse is going over his right trip is a bitter pill to swallow. I believe he goes very well for me. He doesn't over-race and he runs as straight as an arrow whereas he hangs with some of the other jockeys who have ridden him. All the best to Ryan – he is one of the greatest – but he doesn't know Rainbow Bridge."
Moore, 36, first jockey to Aidan O'Brien's all-conquering Ballydoyle operation, has won big races all over the world including the Derby (twice), Prix de l'Arc de Triomphe (twice), Melbourne Cup, Japan Cup and nine Breeders' Cup races – but so far nothing in South Africa.
‹ Previous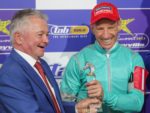 Smart G G Goes To 103