Ryan and Kelsey Munger are settling into their new surrounds in Singapore after arriving from South Africa on Wednesday evening.
While his work permit has been approved in principle, the final go-ahead to slip into his boots will only be given after he clears his medical test – which should not take long.
But the 2017-2018 Zimbabwe champion jockey and winner of close to 600 races was just happy to finally be at Kranji after the long frustrating wait.
All three new jockeys – Ruan Maia (Brazil) and Patrick Moloney (Australia) are the other two – were granted their licences by the Singapore Turf Club at the beginning of November, together with the other licence renewals of the existing riders, meaning the wait had been more than two months before they got the green light.
The Durban-born Munger, who is at his first visit in Singapore, be it as a tourist or to ride, could only watch his two fellow newbies – strictly speaking, Maia and Moloney are not freshmen as they both rode at short stints in Singapore before – ride work at Kranji, but those first steps around his new office for the next 12 months were not fruitless either.
Seen mostly with fellow countryman Ricardo Le Grange, likely to give him the most leg-ups for a start, Munger was able to network around a little in the couple of hours he hung around the trainers' hut.
While it was impossible to meet all 27 trainers, he was able to introduce himself to a few like James Peters, Michael Clements, Jerome Tan, Tim Fitzsimmons and other racing identities like Mick Dittman and Chris Bock.
"I found out my visa was approved last Monday, flew out the next day and arrived here Wednesday night," said Munger, who left South Africa on a winning note aboard his last ride, the Chris Erasmus-trained Norland at Turffontein on Saturday.
"You have very nice facilities here and I'm really looking forward to riding here. I've met a few of the trainers, which is good. Obviously, Ricardo will be supporting me but I'm hoping to build new connections with the other trainers over time. Among the jockeys, I only know JP (Juan Paul) van der Merwe, who was a few years before my batch back home.For now, I just want to sort out my medical and my work permit so I can start riding next week. I'm just so thrilled to be here," he said.
‹ Previous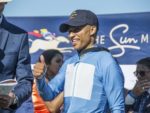 Grant Speaks From Hong Kong