Geoff Woodruff's Seventh Rock first-timer Saccaro is worth including in the Vaal Bipot opener today.
The first Gauteng meeting of 2020 is a ten race programme which starts at 12h05.
The Bipot is the first exotic and commences in the second at 12h40.
The going is good to soft and the false rail is set a zero on the back straight to 10m on the bend, with a 10m spur at the 600m mark. It is set at zero on the outside rail from the 1600m to the pull-up area.
Apprentice Jeffrey Syster has ridden  his 20th winner and will now claim 2.5kg
First-timer / Rested horses
1 12:05 – HAPPY NEW YEAR FROM RACING IT'S A RUSH MAIDEN JUVENILE PLATE (Fillies)
1 AMBER LIGHT S G Tarry: No comment given
5 GOLDEN YEARS D Sham: No comment given
6 GREAT STRATZ G J Maroun: No comment given
7 INDIGO MOON P A Peter: Shows decent work
9 SWEET CANDY WOMAN A B Fortune: Nice filly but will be green
10 VARINA A B Fortune: Nice filly but will be green
2 12:40 – ALL TO COME MAIDEN JUVENILE PLATE
1 AGG WHIT G J Maroun: No comment given
3 MASTER OF DISGUISE P A Peter: Shows good work, in with a chance
5 SACCHARO G V Woodruff: Nice colt, may need one run to get fit, but should be considered for exotic bets
8 MISTY MOUNTAIN A B Fortune: Nice filly but will be green
10 TSITSIKAMMA GIRL A B Fortune: Nice filly but will be green
3 13:10 – BOOK A TABLE ON 0116811508 MAIDEN PLATE
1 RUNNING FURY G C Walker: May need the run
8 FORT LOVE G J Maroun: No comment given
14 MASTER SUPREME C Dawson: No comment given
4 13:40 – INTERBET.CO.ZA 0861 150 160 MAIDEN PLATE
10 CUSTOM MADE S J Gray: No comment given
11 ENRIQUE C Dawson: No comment given
13 ROYAL INTRUDER P A Peter: Will need the run
5 14:20 – PLAY SOCCER 6, 10 and 13 MAIDEN PLATE
1 DOC HOLIDAY H van der Westhuizen: No comment given
6 HOLD YOUR HORSES G C Walker: May need the run
9 FORD PERFECT P A Peter: Will need the run
10 HOLY MAN S J Gray: No comment given
8 16:05 – BETTING WORLD – 087 741 2777 GRADUATION PLATE
9 VERITAS J J van Vuuren: No comment given
Comments by Phumelela Publishing
‹ Previous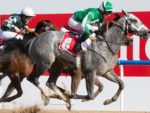 Dubai World Cup Carnival Launch Today