Jockey Bernard Fayd'herbe and trainer Paul Reeves appeared before the Stipes after the first race at Kenilworth on Tuesday after the Oratorio gelding Night Song was sent to lead his field by many lengths by the experienced rider and compounded badly.
Fayd'herbe, who enjoyed a 34% win strike-rate last season with Reeves, was aboard the 3-1 favourite Night Song in the first. He finished 13,80 lengths last in a six horse field.
The Stipes reported that Night Song (B Fayd'Herbe), which raced to the front of a small field approaching the bend at the 1000m and obtained a substantial lead on the field between the 1000m and 650m, came under pressure and tired quickly from the 300m.
Trainer P Reeves and Jockey B Fayd'Herbe appeared before the Board and were interviewed regarding the running and riding of this gelding in the early and middle stages.
Whilst no specific instructions were given, the intention was for Jockey Fayd'Herbe to take Night Song  to the front of the field in the early stages.
Jockey Fayd'Herbe, from a wide draw, had maintained a straight course off the rail in the back straight and approaching the 1000m had approximately a 7 length lead on the rest of the field. This lead extended to approximately 18 lengths through the 650m.
It was Trainer P Reeves opinion that Jockey Fayd'Herbe had allowed this gelding to race too freely during the middle stages of the race and ought to have eased the pace slightly.
Jockey Fayd'Herbe stated that he had obtained the lead easily approaching the first bend and this gelding was travelling comfortably underneath him through the middle stages of the race and, despite the lead, he did not deem it necessary to ease the pace on this gelding.
He stated that at no point did this gelding not feel comfortable at this pace.
Upon entering the straight, Jockey Fayd'Herbe stated that he encouraged this gelding and he had initially responded but tired quickly at the 300m.
He further reported that this gelding had made an abnormal respiratory noise post-race. In his opinion, this had been a factor in the latter stages of the race.
The Board reviewed Night Song's previous run on 18/02/2020, over the same course and distance, where he raced in a similar manner.
The opinions of both Trainer Reeves and Jockey Fayd'Herbe were noted and the Board adjourned for further review.
‹ Previous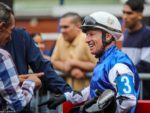 Marcus Will Ride