While Saturday's Cape Derby Day Pick 6 pool reached over R1,3 million, there were some local investors querying why TAB offered no carryover injection as an incentive to attract more hype and cash.
The Sporting Post put it to TAB that last week was a miserable one for punters, with two meetings chopped in half for a variety of reasons – and all out of the customer's control.
And the guys were looking to get some money back on the attractive Gr1 Cape Derby Day card at Kenilworth.
Saturday was, after all, the culmination of a superb Cape summer season. There were different sponsors on board and the prawn-hungry crowd was a more than reasonable one by any average Saturday standards.
At the same time, we acknowledged that it's a bad time of the month, turnover wise, but that Gauteng Guineas day – a Gr2 , run on a delayed Wednesday evening at Turffontein on the 12th of this month – enjoyed the boom and benefit of a R1 million Pick 6 carryover.
A TAB spokesman responded promptly, suggesting that our veiled insinuation that the poor Cape cousin was being ostracised, was simply not accurate.
"The Gauteng Guineas is a poor foundation on which to suggest favouritism or parochialism. The race meeting only fell out of the radius of month-end racing as a result of a postponement and for obvious reasons TAB could not withdraw carryovers that had already been published and comprehensively marketed."
He went on to say that, as stated repeatedly down the years, TAB deploys carryover monies when and where they have the greatest impact.
"It has long been TAB's well-documented carryover policy to focus carryovers on major month-end race meetings, when the maximum number of TAB customers have the wherewithal to participate. For the record there were numerous Grade 1 (to use racing terminology) soccer matches on Saturday and with the exception of Soccer 15, to which TAB is currently applying an automatic rollover policy, there were no carryovers. Available soccer carryover monies are being held back for the next two weekends for the reasons stated above."
‹ Previous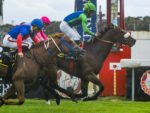 Kasimir For Drill Hall