The NHA Handicappers have reported after Cape Derby day on their feature race analysis and merit ratings adjustments.
ARF Commemorative Gr1 Cape Derby
GOLDEN DUCAT has seen his rating increase from 89 to 110 after he stayed on well to capture the Gr1 ARF Commemorative Cape Derby over 2000m on the Kenilworth summer course on Saturday.
The Handicappers were in agreement that runner-up SACHDEV was the correct line horse to use, having appeared to have every chance in the running, and accordingly his rating remains unchanged on 108.
Third placed SUPER SILVANO goes up from 100 to 102, while 4th placed PARTERRE is up from 100 to 101.  Fifth finisher AZORES was the only other horse to receive a ratings increase and goes up from 92 to 99.  Two horses were given a drop, with CANE LIME 'N SODA down from 100 to 98 and ON MY MIND being cut from 89 to 87.
Khaya Stables Gr2 Diadem Stakes
KASIMIR remains unchanged on a rating of 128 after he recorded a second successive win in the Grade 2 Khaya Stables Diadem Stakes over 1200m at Kenilworth on Saturday.
Runner-up CHIMICHURI RUN was deemed to be the best line horse to use here and so he also remains unchanged on a rating of 126.
Third placed RUSSET AIR goes up from 123 to 125, while fourth placed READY STEADY GO was picked up from 105 to 109 after looking somewhat unlucky not to finish even closer than he did.
There were no other increases and in the only drop SEARCH PARTY goes from 115 to 114.
Vasco Da Gama Gr3 Prix du Cap
PRETTY YOUNG THING has had her rating increased from 105 to 115 after her comfortable success in the Gr3 Vasco Da Gama Prix du Cap for fillies and mares over 1400m at Kenilworth on Saturday.
Third placed SHAMROCK WIND was used as the line horse and so remains unchanged on 107, but runner-up FRONT AND CENTRE was trimmed from 117 to 115.
Fourth placed GOLDEN CHANCE was also dropped and goes from 108 to 106, while fifth finisher SANTA CLARA is down from 114 to 111.
There were several other drops, with FREEDOM CHARTER down from 113 to 111, HELEN'S IDEAL down to 106 from 108, MISS FLORIDA is down from 107 to 105, DYNAMIC DIANA drops from 104 to 101, STAR FIGHTER was trimmed from 105 to 104, and finally LARENTINA goes from 108 to 107.
Selangor Listed Jet Master Stakes
CROWN TOWERS has had his rating increased from 103 to 109 after he hung on narrowly to win the Listed Selangor Jet Master Stakes over 1600m at Kenilworth on Saturday.
Third placed SOVEREIGN SPIRIT and fifth finisher Cabo Da Cruz were both used as line horses here and so their ratings remain unchanged on 95 and 103, respectively.
In rating the race this way, CROWN TOWERS actually achieves a mark of 112.  The Handicappers felt that CROWN TOWERS may well be flattered by this mark and attributed this performance to an enterprising ride from winning Jockey Bernard Fayd'herbe.
The specific conditions of the race do not allow for more than a six pound increase to the ratings of the winner and placed horses.  Coincidentally the handicappers do feel that the rating of 109 is a more accurate reflection of CROWN TOWERS' ability in terms of this gelding's overall ''body of work''.
None of the placed horses were in fact given a rating's raise, however, runner-up CAPOEIRA was dropped from 115 to 112.  Three other horses had their ratings dropped.  CHARLES is down from 113 to 111, KNIGHTS TEMPLAR was dropped from 100 to 97, and PACK LEADER goes from 116 to 114.
‹ Previous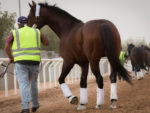 Americans Arrive In Saudi