A successful outcome over the next nine months to the European Union's audit of new control measures devised by South Africa, intended to combat the threat to direct movement of horses from African Horse Sickness, will benefit not only the home nation but also international racing.
That was the concluding message from Andrew Harding, secretary general of the Asian Racing Federation, at the final session of the three-day Asian Racing Conference in Cape Town on Friday.

"The mission of the International Federation of Horseracing Authorities, to which the ARF is fully signed up, is to promote the globalisation of racing," said Harding.
"We've tried to take that a step further in terms of the free movement of horses, which is an essential for internationalisation, so [assisting South Africa] is a means of living that mission.
"International racing would be stronger, more interesting and have greater value propositions in so many ways, if the quality of South African bloodstock can be seen more easily on the world stage."
South Africa has been denied direct access to overseas racing and breeding markets since 2013, when it was already serving a two-year ban on free movement imposed by the EU and then failed an audit of its AHS controls. Its travelling bloodstock has had to undergo 90 days' quarantine in Mauritius, as well as further periods of isolation at either end of each journey.
Adrian Todd, managing director of South African Equine Health and Protocols (SAEHP), the organisation set up by the bloodstock industries, told conference delegates: "We failed because we deserved to fail. We could not provide international countries with the guarantees they needed. But failure is never final."
Todd believes that now, after his organisation engaged fully with not only its stakeholders but also the national government, a "world-class system" has been created and implemented, ready for the EU audit beginning on April 20.
SAEHP expects to receive a report in mid-May, to which it will respond, followed by a three-week consultation period with the EU and further meetings with various EU committees, before getting the hoped for go-ahead by November.
Asked what a positive answer would mean for South Africa, Todd said: "It would be a massive deal for our racing and breeding industries, because we've been living in splendid isolation.
"South Africa has a world-class product and it would let us get on to the international stage directly for the first time. It doesn't create us as a massive threat to the rest of the world, but we will be a partner, purchasing new blood and trading internationally. We'll be on the world scene for the benefit of all."
Harding added: "If the audit is successful, there will be a benefit to South African breeders, in good bloodstock being available, and to owners internationally who will be able to access that bloodstock, but it goes beyond that to racing purposes.
"We need to see the great horses trained in South Africa racing overseas, and likewise it will unlock the potential for horses to travel to South Africa to race."
‹ Previous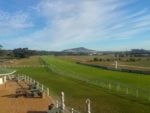 Durbanville Grass Issue – Meeting Moves