The strike at Yvette Bremner's Fairview yard continues with  team members rolling up their sleeves over the past weekend, with Monday morning set as a deadline for Grooms to return to work.
Contingency plans are in place to deal with threats from certain quarters to physically force workriders off their horses on Monday morning.
The Sporting Post broke the news on Friday of security guards accompanying the Dippin Blu runners at Fairview. This followed a strike after a Groom, who had allegedly stabbed a horse, was dismissed.
No response has been received from Phumelela, the National Horseracing Authority or the Racing Association to our requests for a statement. We have also attempted to get a comment from SAGA.
One of South Africa's largest owners, Hedley McGrath said that they had already vacated a barn of 28 horses and he had relinquished all his shares at six trainers countrywide, as well as at two stud farms.
We have learnt that Bremner stable jockey Wayne Agrella and his fellow workriders have also been threatened not to ride out on Monday morning.
McGrath said that he was determined to abide by the law of the country and had contracted professional external security assistance in order to protect the rights of his trainer and other owners to conduct a business in a civil environment.
"This is an extremely disheartening and disappointing state of affairs. We are being held to a ransom of violence and initimidation in a country with the greatest constitution on earth. We cannot rely on assistance from the racing authorities, who have tried to do what they can but have their own constraints. Our team have resolved that we will not be forced to lie down and allow disorder and anarchy to prevail. We will reassess the situation again after tomorrow morning."
He  said that they would have security in place 'to protect property and person'.
"I sincerely hope that sanity will prevail. That is both for East Cape racing and South African racing. This is unspeakable in a country with such high unemployment. Racing is already under pressure as it is. I don't know what else to say."
‹ Previous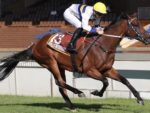 Stingray's Having A Ball