The Gr1 Cape Derby run at Kenilworth on Saturday may well go down in world racing's history books.
t's beginning to look as if Halfway To Heaven's achievement in producing a Group 1 winner – or equivalent big race winner in the days before the Pattern was introduced – from each of her first three foals could be a world record.
Charles Faull, widely regarded as the most knowledgeable pedigree expert in the country, says the Rainbow Bridge, Hawwaam, Golden Ducat feat is definitely a first in South Africa and so far his researches have not shown up anything to match it around the world.
Michael Clower writes that Toussaud had four Group 1 winners from her first six foals and Hasili (dam of Dansili) had three from her first four and five in all, but Faull has yet to find one that has had three from her first three offspring.
It is perhaps appropriate that Halfway To Heaven's three winners were bred by Mary Slack and her daughter Jessica Jell because they are as well bred as any of their horses.
They are the daughter and granddaughter of Harry and Bridget Oppenheimer who bred and raced a string of July winners as well as the legendary Horse Chestnut.
For good measure Golden Ducat races in the famous black, scarlet cap colours that were carried to victory by Royal Palace in the Epsom Derby and by Maori Venture in the Grand National.
They were bequeathed to Mrs Slack by Jim Joel, a De Beers director who had engraved on his tombstone this quote from the Psalms: 'Some trust in chariots, and some in horses, but we will remember the name of the Lord!"
‹ Previous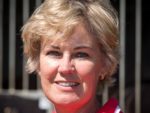 Tribute To A Smart Lady