An eight-race meeting is offered at Kenilworth today.

Entrance is free and the first is off at 13h00. The first race is also the Bipot opener.
The programme is headed by the Kenilworth Cup – off time 16h30.
Hollywoodbets betting available here
The going is recorded as good with the false rail set in the original position with a 2m spur at the 600m mark.
First-timers / Rested horses comments:
2 13:35 – TABONLINE.CO.ZA MAIDEN JUVENILE PLATE
1 CAPTAIN OUPIE P D Reeves: Shows good speed, may need the experience
3 GARFIELD V H Marshall: Shows speed but will be green
4 JEWEL OF INDIA G R Puller: Should run well
5 MAURITIUS S J Snaith: Has had a grass gallop and should go close
6 NO LAYING UP V H Marshall: Nice horse, has shown good work at home
7 ROMAN TIGER JMT Stewart: Will need first run
8 SH BOOM C Bass-Robinson: Nice type, could run well first time, if not too green
10 WORDSWORTH G W Ennion: Speedy but may be green
11 ZACH M J Robinson: Nice horse but will need the experience
3 14:10 – BETTING WORLD 087 741 2777 MAIDEN JUVENILE PLATE (Fillies)
1 CUT GLASS C Bass-Robinson: Will probably need the first run
2 DAUGHTER OF ZEUS V H Marshall: Very green but should run well
3 EAGER DUCHESS V H Marshall: Shows good speed at home
5 HIEMS VENIT H/M Crawford/Rix: Will need the experience
7 KEEP THE LIGHTS ON S J Snaith: Shows good ability at home has excellent winning chance
8 LEMON DELIGHT C Bass-Robinson: Nice type, could run well first time, if not too green
9 MADAM SEVILLE G W Ennion: Nice filly, shows good pace, may be green
10 MISS MARILYN P Botha: Will need the experience
12 PEANUT BUTTER M J Robinson: Nice horse but will need the experience
14 TRUTHBETOLD A E Sands: Nice filly, could be green
15 WHAT A FLIGHT C Bass-Robinson: Will probably need the first run
7 16:30 – KENILWORTH CUP (Listed)
4 CEDAR MAN G W Ennion: Has galloped but could need the run
Comments by Phumelela Publishing
‹ Previous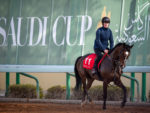 Saudi Cup Meeting – Your Racecard