Freddy Head has ridden and trained major winners all over the world and is hoping to add the inaugural running of the $2,500,000 Longines Turf Handicap to his name when he will be saddling the now 6-year-old Call The Wind.
A son of Frankel and In Clover, Call The Wind has been one of the most consistent stayers in France, where he is based at the beautiful training centre of Chantilly just 50 km to the north of Paris.
A winner of the 2018 Gr1 Prix du Cadran, which is run on Arc weekend, Call The Wind missed out on a podium in 2019 but was the runner-up on three occasions, including last year's edition of the Prix du Cadran.
"He is a very consistent horse," confirmed his trainer. "Last year was a bit frustrating though. He was unlucky a couple of times and had to carry a lot of weight. In France, when you win a Group 1 race, you have to carry a lot of weight."
Call the Wind was not only carrying a penalty in France last season, but also in Dubai where he ran in the Gr2 Dubai Gold Cup and where he eventually finished third behind the Charlie Appleby trained duo of Cross Counter and Ispolini.
"He ran a good race at Meydan," Head reflected. "I think I have a better horse this time. I think he is in better shape. In fact, the plan was to go to Dubai again this year, but then when I saw this race, I said 'well that is the race we should try'. There is of course a lot of money to be won."
This time it will be Call the Wind who will have a weight advantage, as he is carrying 1.5kg less than Cross Counter. "I think the ratings are pretty fair," Head said. "Judging by the Godolphin horse, who I was giving a lot of weight last year, this year it is the other way round, which gives me a chance."
It might be snowing in France this week, but Call the Wind's preparation has gone very smoothly and Head confirmed:
"We had a good winter in France, the track was always very good and I didn't stop a day, so the prep was very good. Of course, he hasn't run since October, so it's a first time out, but the horse is in good shape."
Olivier Peslier is going to partner the George Strawbridge-owned gelding and Head was pleased to learn that the French ace gave the new turf track a glowing review.
"My horse likes a bit of give in the ground and Olivier Peslier, who came here a couple of weeks ago to ride on the track, told me that the track was very good, not too firm," Head said.
"I hope there will be enough pace in the race, as my horse is a true stayer. We will keep him handy and in a good position. Obviously, I would love to see some speed in this race."
And he concluded: "I think it is a great initiative, I think it is a worldwide thing to have these big races. It changes the way we train and plan the racing career of a horse. I remember coming here many, many years ago to ride. It's nice to come back with a horse and run in a big race. Hopefully he runs well here and then he will go back to Dubai."
‹ Previous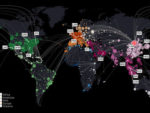 Japan Bans Attendance At Races