Lyle Hewitson is looking forward to new opportunities in Japan.The two-time South African champion jockey has opted not to apply for an extension to his licence in Hong Kong at the moment.
"I'm going to Japan on a two-month contract," Hewitson explained on Friday.
"It's a massive opportunity and hence why I didn't extend my Hong Kong stay at this stage."
Tabnews reports that Hewitson moved to Hong Kong at the beginning of their season last August but just one week into his stay he was stymied by a two-week suspension he had appealed against while fighting for his second successive SA jockeys' title.
He struggled to get decent rides subsequently and in Hong Kong, if the owners do not perceive you as "lucky" they do not want you on their horses.
It was not until the last meeting of the year that Hewitson finally cracked the ice, which came in his 140th ride, thanks to a some help from former SA jockey turned trainer Dougie Whyte. He has gone on to ride two more winners and has placed on 16 runners. He also rode a winner for David Ferraris.
"For me, the main thing is I remained positive, worked hard and got the ball rolling late" said Hewitson. "So at least I will be leaving on an upward curve.All's well that ends wel,l and so far I'm a better jockey for the experience.- TI now look forward to what the future holds."
‹ Previous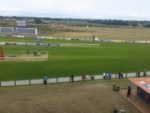 Kenilworth Today