The National Horseracing Authority confirms that at an Inquiry held in Durban on 14 February 2020, Trainer Frank Robinson was charged with a contravention of Rule 72.1.25.

This arose in that he conducted himself in an improper manner at Hollywoodbets Greyville Racecourse on 12 January 2020, by initiating a physical altercation with an employee of his stable.
Mr Robinson pleaded not guilty to the charge.
The Inquiry Board found Mr Robinson guilty and after considering the evidence presented, he was fined R8 000, of which R4 000 is suspended for a period of two years, provided that he is not found guilty of a contravention of Rule 72.1.25 during that time.
Mr Robinson has the Right of Appeal against the finding and the penalty imposed.
Press release by NHA on Monday 17 February 2020
‹ Previous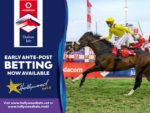 July Fashion Theme Announced