At the completion of Day 1 of the 2020 Inglis Premier Sale, the average sits at $138,512 with a clearance rate of an improving 75% and a gross of $23,270,000.

After offering the same amount of lots last year, 113 horses have sold for $100,000 or more – a 12% year-on-year increase – while 33 have sold for $200,000 or more, an 18% jump.
"We are very pleased with how the sale has started,'' Inglis' General Manager of Bloodstock Sales and Marketing, Sebastian Hutch, said.
"It was an incredibly competitive day of trade and vendors with stock that satisfied the conformational criteria of buyers and vetted well seemed to sell exceptionally well. Obviously we'll be looking to improve the clearance rate as the sale progresses, but the positive atmosphere in advance of the sale has translated into rewarding results for many vendors which is very satisfying."
Hutch added, "There are still plenty of nice horses to be offered over the next few days and we'll be working hard to continue to help vendors to achieve desirable results.'"
The third most expensive yearling to ever sell in Victoria set the Oaklands auditorium alight on Sunday as a Snitzel colt from Blue Gum Farm sold to Aquis Farm for $725,000.
On a day when all key financial year-on-year indicators were significantly up, it was Lot 227 (Snitzel x Jestajingle) which stole the show, with fierce bidding creating spectacular theatre for the enormous crowd who had ventured to Oaklands for Day 1 of the Premier Yearling Sale. The result – for both breeders Neville and Susan Duncan and vendor Phil Campbell of Blue Gum Farm – was spectacular, causing stirring emotion between both parties.
"The Duncans are just the nicest people and they are also brilliant breeders, they keep sending us quality horses year after year. It is just a pleasure to work with them and I'm just delighted to get another great result for them, it makes me bloody emotional to tell the truth,'' Campbell said as he fought back tears. Aquis' Shane McGrath praised Campbell for prepping such a quality colt for sale.
"He's a top-level colt by a champion sire. We thought he was a super mover, a real 2YO who's come from great breeders and Phil Campbell has done a lovely job preparing him. Across the board with these top-quality horses, that's what they're going to make. They can be expensive but if they can come out and win a nice race, they're a future stallion prospect which is what everyone is after.''
Day 2 action begins at Oaklands on Monday March 2, where the rest of Book 1 will be offered.
To view the catalogue, CLICK HERE.
DAY 1 STATISTICS (2019 Day 1 statistics in brackets)
Lots sold: 168 (135)
Clearance Rate: 75% (77%)
Average Price: A$138,512 (A$125,511)
Median Price: A$120,000 (A$100,000)
Top Price: A$725,000 (A$800,000)
Gross: A$23,270,000 (A$16,944,000)
‹ Previous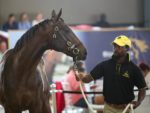 Rain Rules On A Summer Day