The British Horseracing Authority has agreed an emergency financial plan to cut its costs to the industry by up to a million pounds a month whilst the coronavirus continues.
Under the plan, agreed by the BHA Board, the majority of its staff – nearly 80% – will be stood down from work for now using the government's Coronavirus Job Retention Scheme.
The remaining staff are already working with industry colleagues on examining all scenarios for the earliest possible return to racing and providing support and leadership to the industry in its crisis response.
The decision will still allow the BHA to support the resumption of racing from 1st May, when the current period of suspension ends, if that is possible.
Under the plan, the BHA will keep critical functions ticking over so that it can respond in an agile and flexible way as the crisis allows. At the same time, it will take maximum advantage of the Job Retention Scheme to minimise costs for the industry. This is a difficult balance to strike and will be kept under constant review.
The key elements of the financial plan include:
More than 200 of the BHA's 260 staff will stop work. Most of these are race-day officials, but staff from 75 High Holborn, including GBR and GBRI, are also affected.
Salary reductions for all BHA staff.  These apply equally to those working or not working and will also be kept under review. Board salaries are also reduced.
A programme of cost savings linked to a reduction in the normal activity supporting and administering racing. The BHA is in discussion with suppliers.
Most projects have been paused, including the consultation on use of the whip which was announced yesterday.
In addition, the BHA announced earlier this week that entry fees have been refunded and other fees to participants dropped where possible
In total, the financial plan should save nearly £1m a month, representing a third of the BHA's normal monthly budget.
The BHA Board met on Wednesday evening and executives spent Thursday finalising the plans. The decisions were communicated by the Chief Executive Nick Rust at an all-staff briefing on Friday whilst line-managers informed teams and individuals. They were told the measures announced will be kept under constant review.
‹ Previous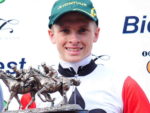 Another Winner For Lyle