The Coastal Jockeys Association and its members are in full support of the industry call for racing stakeholders to reconsider their plans to make use of air travel.
The exposure established coronavirus high-risk environment of aeroplanes and airports was discouraged in a plea published earlier today by all entities involved in the industry.
A Spokesman for the Coastal Jockeys Association, MJ Byleveld said that the call that had been disseminated to members had been supported unequivocally.
"The boys realise the risks associated with travel and have pledged their support to do everything in their power to minimalise the risks. Jockeys will suffer as much as every stakeholder group would, should racing have to be suspended. Some of the guys have already made plans to rearrange their riding commitments and to curtail regular travel."
He gave an example that some had already commenced travel by car, while at Fairview on Friday the visitors had been isolated from the locals.
"As a community we are all still learning about best practice in respect of this terrible scourge that has impacted on everybody's lives. We pledge every ounce of doing what is best for the industry, our families and for South Africa. Together we can beat it."
‹ Previous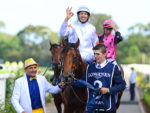 Farnan Wears Golden Slipper