Is South African horseracing ready to deal with the coronavirus threat?
The World Health Organization declared the worldwide outbreak a pandemic yesterday, with more than 118 000 cases in 114 countries.
Isolation and assertive action appears to be the key to success and the Hong Kong Jockey Club's immediate and drastic action to mitigate the threat soon after its danger became apparent, has already slightly eased restrictions for racing patrons.
Yesterday's Happy Valley meeting saw voting members who have seasonal tables resuming attendance.
This follows a lengthy period where just officials, staff, owners, trainers and jockeys were allowed to be present at its two racetracks.
Despite coronavirus expanding quickly around the globe, there has been an increasing slow-down of new cases in China. Hong Kong's authorities are steadily reopening public services after its own lockdown, with the HKJC likely to follow in lock-step with the government. In a statement, it advised that they will continue to ensure social distancing at all racecourse venues open during race meetings. It is the intention to continue to implement all other precautionary measures for the protection of customers and staff.

The Swiss Government has banned gatherings of more than 1000 people and while UK bookmakers had it fairly short not to happen, 60 000 people attended Day 1 of Cheltenham on Tuesday. The British Horseracing Authority has adopted a less aggressive approach than the eastern jurisdictions, with the establishment of a steering committee.
A recent BHA Statement said that at present racing continues as usual and the sport remains in agreement that there is no need to develop a policy regarding abandonment of any specific fixtures due to coronavirus at this stage. They said that they will continue to speak to government and should a situation arise where this is required they have established mechanisms in place for handling such scenarios.
And that's really where South African racing finds itself. What to do today? Wait for more information tomorrow? Or just carry on and hope that every individual takes responsibility for his own actions?
Phumelela Executive Rob Scott (pictured below)  told the Sporting Post that they would be following other sporting codes closely as regards fixtures. He said that he and Racing Executive Patrick Davis would be monitoring the developing situation.

"This is an unforeseen logistical challenge and a critical operational and expense item that we are applying our minds to immediately. Our suppliers Bidvest are doing their utmost in regard to supplying extra hand sanitisers and detergents. There is obviously a national demand that they need to cope with too and we intend placing hand dispensers in our outlets where no toilet exists in-house."
He added that they are communicating with staff as regards reinforcement of basic additional hygiene related behaviour and are in the process of amending  their standard operating procedures with regards to cleaning.
"All surfaces will now be washed down every half hour, as an example. We have supplied disposable gloves for use by staff and have given them an instructional video on how to make a face mask from a roller towel. We have also told those that are feeling unwell to report to their superiors. We understand that there may be a practical resistance or fear that requires counselling by a member of management. All of these measures also apply to Kenilworth Racing."
The KR team were in a board meeting today, while Gold Circle were also in a meeting.
NHA CEO Vee Moodley (pictured below) said that the racing regulator had taken action internally.
This included the acquisition of wall-mounted hand sanitizer dispensers, personal hand sanitizers and masks. Staff had been communicated with and an awareness programme implemented.

He said that no action had been formally planned yet for racedays and pointed out that the racing operator was responsible for putting on the show.
"We are taking the threat very seriously. It ultimately requires the commitment and responsibility of every individual citizen, employee and employer," he concluded.
A trainer told the Sporting Post that the key to success in Hong Kong had clearly been proactive isolation and suggested that an outbreak, for example, amongst the Groom population at a training centre, could cripple that region's ability to race.
"We should be praying for the best and planning for the worst. Regional representative committees need to be established and communicating regularly. We need to establish a comms structure that marries all channels. That's never been done in racing in this country before. Maybe the coronavirus can be turned into a unifying positive for us?"
Click on the image to read the latest SP Digest

‹ Previous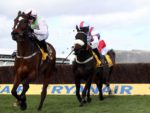 Min – Just Call Him Mister!