Following the recent resignation of longstanding Racing Association CEO Larry Wainstein, the owner body has advertised for a replacement.

Apparently the primary role of the RA CEO is to enable the Purpose, Mission and Strategy of the Racing Association, being "to protect and advance the interests of all owners, while ensuring an excellent racehorse ownership experience and playing a leading role in the inevitable restructure, transformation and re-capitalization of the horseracing industry."
Amongst others, It is also to protect and advance the interest of all owners, specifically in improving stakes and programming, as well as align Kenilworth Racing to the interest and objects of the RA, improving revenue through better utilisation of RA balance sheet assets, and so on.
Remuneration is not expected to exceed R2 million per year, cost to company.
All applications must be sent to [email protected] and noted for the attention of Wehann Smith.
Who would be the right person for the job?
‹ Previous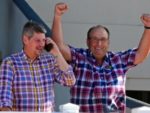 Sir Braam Celebrates!