The issue of slow or non-paying owners is a sensitive subject that seldom gets ventilated and probably requires formal intervention by the NHA.
Our racing regulator's apparent inability or reluctance to intervene in situations where members and privilege holders are defaulting, has been a long debated tale of little action.
Late last year, owner Mark Sham launched a survey with the sole aim of demonstrating to the National Horseracing Authority that their inaction in routing out defaulters is having a material adverse effect on the future and sustainability of the industry.
He called on all service providers, participants and stakeholders in the racing and breeding industry to step up and make a difference.
Now a local trainer has resorted to social media to vent his frustrations.
He writes:
So sick and tired of certain owners that run up 40k to 50k accounts over 2 to 3 months and then don't pay and still say they animal lovers. What kind of humans are you? These are animals we are working with that need to be fed and cared for.
Meantime the trainer must continue to find the money to care for their horses and still keep our own accounts up to date. Time to start blacklisting and getting them out of my stable.
If they are not careful I'll name and shame them so their friends and family can see their true colours. You know who you are!
If I had to mention the amount of money I have outstanding as a small stable you would be shocked!
They should not be allowed to have colours!
To all the owners out there that do pay your accounts, and that is most owners, thank you very much for playing your part. It's just sad that there are some bad apples out there.
So over begging for payments.
‹ Previous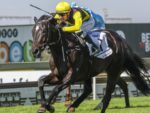 What A Cherry!