Vaughan Marshall saddled Sea Warrior to win the Cape Guineas 34 years ago and has been training racehorses for close on four decades.
He had the privilege of despatching his fourth stallion to stud when Captain Al's son One World departed Milnerton for the scenic paddocks of Drakenstein Stud on Monday.
A sensational winner of the recent Sun Met, One World won 10 of his 14 starts and cultivated cult hero status amongst the  Cape racing public as a never-say-die galloper.
Leading Stallion manager John Freeman announced on Friday that he would be syndicating One World and that  the star would join the illustrious Drakenstein Stud stallion ranks.
Vaughan Marshall, who has a terrific track record as a 'stallion-maker', bid his hero farewell this morning, in the company of Groomsman Petrus Fama and the rest of the VHM Racing Team.
"It's always a heartsore moment when one says goodbye to a  great character and top athlete but he has done all we have asked and it's a good a time as any for him to move on into his second career. I have no doubt that One World will make a wonderful sire and us all proud," an emotional Marshall told the Sporting Post. He should know, having enjoyed the rare distinction of having laid the foundation for four sires, including One World's famous Dad, Captain Al.
With a Merit Rating of 135 One World is the highest rated colt in SA and, as his trainer suggests, he is certainly retiring from racing at the top of his game.
One World will get every opportunity at Drakenstein Stud, who were crowned Equus  Outstanding Breeder last season, and boast a top notch stallion band that includes five time Gr1 winner Duke Of Marmalade, who produced his 44th individual stakes when Sailing Ship won the Breeders Guineas at Fairview on Friday, as well as champions Trippi, What A Winter, Futura, Gold Standard and Lancaster Bomber.
All enquiries should be made to FreemanStallions office in Cape Town.
‹ Previous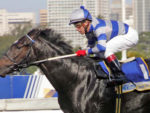 A Classic Green Sweep On Saturday!