Stallion manager John Freeman announced on Friday that he has been authorised to syndicate Captain Al's 2020 Gr1 Sun Met winner, One World.
Drakenstein Stud will stand the stallion. Freeman said that the syndication process will be completed today.
With a Merit Rating of 135 One World is the highest rated colt in SA and he is retiring from racing at the top of his game with immediate effect.
Freeman said that the colt needed to do no more to prove himself worthy as a stallion prospect. He won 10 of his 14 starts and was placed 4 times, including 3 seconds at Gr1, Gr2 and Gr3 level and in his only other start he was placed 3rd in a Gr1.
Like his maternal sire he was undefeated in all three of his starts at 2yrs including the Langerman Stakes (L) and his stretch of 5 straight wins included the Gr2 Concorde Cup. He followed up by winning the R5m CTS 1600 and the Gr3 Winter Guineas at 3yrs.
At the start of his 4yo career he took the Gr3 Matchem Stakes and the Cape Mile in back-to-back victories and then was beaten by Vardy in both the Gr2 Green Point Stakes and the Gr1 Queens Plate. His crowning moment was that incredible duel with Rainbow Bridge in the Gr1 Sun Met this year – where he triumphed. There are many highlights of his racing career that are debated as being equally impressive; one that first captured the imagination of his fans was when he beat the year older subsequent Gr1 winner Kasimir over 1400m.
One World was trained by Vaughan Marshall and raced for the partnership of Ken and Jane Truter, Etienne Braun and Braam van Huyssteen. He earned R5,631,875 over 3 seasons.
Freeman and Drakenstein management went to see the stallion-prospect at Vaughan Marshall's stables and took clients to see the colt before making an offer to syndicate him.
Freeman said that he is an extremely good looking, well balanced, clean limbed, big strong son of Klawervlei's late champion sire Captain Al and has a pedigree to match. His dam is a daughter of triple champion sire and champion broodmare sire Giant's Causeway, she hails from one of the Aga Khan's finest Gr1 families; that of Shahinaaz!
Freeman and Drakenstein management went to see the stallion-prospect at Vaughan Marshall's stables and took reeman noted that breeders in South Africa need no introduction to One World's illustrious champion sire Captain Al and added that One World's catalogue page is easily summarised:
his dam Aquilonia apart from producing Gr1 winner One World, has five foals to race and all of them have won including stakes placed Count To Ten.
Aquilonia is out of Gr1 placed Leonila who is a two time winning own sister to Gr1 French Oaks winner Caerlina.
Third dam Dinalina produced 9 winners from 10 runners including 2 stakes winners lays claim to 13 stakes winners (six Gr1 horses) amongst her offspring and their offspring.
The 4th dam Shahinaaz won 2 races for The Aga Khan and was Gr3 placed; she produced 8 winners, the mare and her offspring produced six Gr1 horses.
One World's damsire Giant's Causeway was the first foal of Gr1 placed bluehen Mariah's Storm who won six graded races. She was bought by John Magnier for $2.6m carrying Giant's Causeway.
"He was a gifted athlete, undefeated in three starts at 2yrs including his first of eight Gr1 wins". Rick Waldman who managed Giant's Causeway's sire Storm Cat (and Northern Dancer) told Freeman at the Breeders Cup some years ago that Giant's Causeway contributed significantly to his sire Storm Cat's incredible $500,000 peak service fee. Giant's Causeway was nicknamed "The Iron Horse" after winning five Gr1 races in just 11 weeks. He was crowned Horse Of the Year at 3yrs and was Champion Sire in North America three times; 2009, 2010, 2012. He was also Champion Broodmare Sire in North America in 2018, the year he passed away aged 21. He is the sire of 178 stakes winners and damsire of 134 stakes winners including 12 champions.
One World's second damsire Caerleon was bred by Seth Hancock at Claiborne Farm in Kentucky. Owned by Robert Sangster, this son of Nijinsky II was one of the best European-based colts of his generation. "he was good at 2 but even better at 3 as French Champion 3yo" earning a classic and then defeating his elders in the 1983 B&H Gold Cup with a TFR of 132 as a 3yo.
He was Champion Sire in UK in 1988 and 1991 and was among the Top 10 eight times. He was champion sire of 2yo's twice and is a much sought after name as damsire.
 All enquiries should be made to FreemanStallions office in Cape Town.
‹ Previous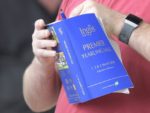 Pierro Colt Catches The Eye