The National Horseracing Authority confirms that it received information through various sources, relating to the possible poor state of thoroughbred racehorses and the conditions that they were being kept under on a farm near Middelburg, Mpumalanga.


An NHA Official, accompanied by a representative from the Highveld Horse Care Unit visited the farm on Thursday, 27 February 2020 and returned on Saturday, 29 February 2020, with the support of the South African Police Services, armed with a Court Order to confiscate fifteen thoroughbred horses from the farm in question.
The horses were transported to the Highveld Horse Care Unit, where six of these horses had to be euthanased due to their extremely poor condition.
Whilst criminal charges are being instituted, the NHA is investigating the matter in line with its commitment to maintaining the highest standards regarding horse welfare.
Press release by National Horseracing Authority on 2 March 2020
‹ Previous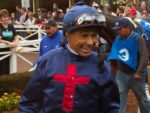 'Big Money Mike' Banned