Twenty one days can be a lifetime whatever you're doing. When it's a national lockdown on racing in South Africa in 2020, it's a test of character, resilience and a daunting push towards the precipice, where passion and power could reach boiling point.
South Africa's leading racing television producer Andrew Bon produced this good news insert with the kind support of Maine Chance Farms and Wilgerbosdrift-Mauritzfontein.
Listen to what top men like Mike de Kock, Sean Tarry, Geoff Woodruff and Mike Azzie have to say on our COVID-19 window.
‹ Previous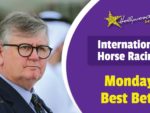 Day 4 – Let's Back A Winner