A South African trainer has called on the National Horseracing Authority to immediately engage individually with every trainer and breeder countrywide in what would be a crisis management move to ultimately protect horses that are in danger of ending up lacking care.
The leading trainer suggested that in the absence of racing, NHA officials would now have the time on their hands to get trainers and breeders to open their books to prove that they had the means and a plan in place to protect the horses in their care.
"I saw the call for funds yesterday for the export protocols drive via SAEHP. Exports will always be a priority but we really need to realise that charity begins at home right now and we need to take proactive steps today. And the most pressing problem right now is the potential for some financial hardship that can only impact on the horses at yards and farms."
He said that the establishment of the Special Task Team was a positive move, but questioned who was on the 'Team' and what their immediate plans were.
"Talk has always been cheap. It has just been discounted 90% in the current climate. Once again, one has to ask where the leadership is. I believe NHA CEO Vee Moodley needs to lead the charge. After all, what is the NHA's mandate? Every day counts. Let's not betray the horse," he urged.
The call comes on the heels of Giles Thompson, chief executive of Racing Victoria, warning of what may be coming.
With almost the entire thoroughbred world having either stopped racing, or about to, Thompson pulled no punches, telling racing.com that the broad gamut of the racing industry needs to start planning now, for the time when shutdowns for various periods of time are inevitable.
Specifically, in light of a number of country's experiencing a 'pause' of three to four weeks, he said:
"Participants would be kidding themselves if they believed a hypothetical four-week shutdown would only last that period of time."
He suggested planning for potential outcomes that could last longer than that needed to be in train for every sector of racing.
"We need to start thinking from our industry, what that might look like. I don't want to scaremonger, but let's be clear about this, this is not something to stick your head in the sand and think it might not happen."
Giles then touched on the elephant in the room.
"At the core of that all of us need to be thinking, as well of course about our people, but we need to be thinking about the horse. How are we going to look after the horse? How are we going to keep the horse safe, well fed?"
Those are the million dollar questions that are easier to ask than answer, but which are crucial for the thoroughbred industry to tackle.
‹ Previous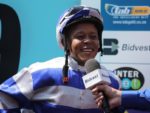 Muzi's Rollercoaster Season