The first entries were received on Monday for the big day at Turffontein on 4 April, highlighted by Summer Pudding's bid to become the third filly to be crowned an SA Triple Tiara princess.
The raceday falls within the 21 day lockdown announced by President Cyril Ramaphosa on Monday evening.
Summer Pudding won the first two legs of the SA Triple Tiara in fine style and the climax and hype of her big bid would have been a massive tonic for an industry under pressure.
At this point, the day looks likely to be postponed.
It needs to be borne in mind though that the SA Champions Season in KZN starts on 1 May. So things could become very tight.
Mike de Kock and Sean Tarry dominate the entries for the HF Oppenheimer Gr1 Horse Chestnut Stakes, with eight of the ten entries between them.
R750 000 2450m
WILGERBOSDRIFT S A OAKS (Grade 2)
For 3 year-old Fillies (3rd Leg of SA Triple Tiara)
No Apprentice Allowance
8
Summer Pudding
(3F)
60
114
A
Paul Peter
10
Marygold
(3F)
60
112
A
Alec Laird
1
Victoria Paige
(3F)
60
112
A
Sean Tarry
14
Keep Smiling
(3F)
60
104
BAT
Sean Tarry
12
Snow Palace
(3F)
60
100
A
Corne Spies
4
Pomander
(3F)
60
90
A
Mike de Kock
6
Fayrooz
(3F)
60
89
A
Mike de Kock
5
Machali
(3F)
60
89
A
Candice Dawson
11
Just Kidding
(3F)
60
88
A
Gary Alexander
13
Ballet Shoes
(3F)
60
87
A
Candice Dawson
2
Smoking Hot
(3F)
60
81
A
Candice Dawson
3
Slievanorra
(3F)
60
79
A
Gareth van Zyl
9
Adorable Alley
(3F)
60
78
A
Weiho Marwing
7
Irish Dame
(3F)
60
77
A
Dianne Stenger
(14)
R1 000 000 1600m
H F OPPENHEIMER HORSE CHESTNUT STAKES (Grade 1
Weight for Age
WFA: 2yrs-12.5kgs 3yrs-2.5kgs 4yrs-0kgs
No Apprentice Allowance
4
Soqrat (AUS)
(4C)
60
133
A
Mike de Kock
7
Barahin
(4G)
60
131
BA
Mike de Kock
10
Cirillo
(4C)
60
127
A
Sean Tarry
5
Chijmes
(4G)
60
120
A
Gary Alexander
2
Tierra Del Fuego
(4C)
60
120
A
Sean Tarry
8
Matador Man
(6G)
60
117
BA
Sean Tarry
1
Zouaves
(6G)
60
117
A
Geoff Woodruff
9
Al Mutawakel
(4C)
60
116
BAT
Sean Tarry
3
Queen Supreme (IRE)
(4F)
57.5
122
A
Mike de Kock
6
Frosted Gold (NZ)
(3G)
57.5
114
A
Mike de Kock
(10)
R1 500 000 2450m
S A DERBY (Grade 1)
3 year olds (3rd Leg SA Triple Crown)
No Apprentice Allowance
15
Shango
(3C)
60
120
BAT
Sean Tarry
13
Got The Greenlight
(3C)
60
116
AT
Joe Soma
6
Green Laser
(3C)
60
114
BA
Robbie Sage
1
Youcanthurrylove
(3C)
60
114
A
Fabian Habib
3
Leopold

Accepted

(3G)
60
111
A
J A Janse van Vuuren
10
Imperial Ruby
(3G)
60
102
A
Corne Spies
14
Alibi Guy
(3G)
60
101
A
Mike de Kock
9
Master Supreme
(3G)
60
100
A
Candice Dawson
12
Western Fort
(3C)
60
95
A
Paul Peter
5
Cornish Pomodoro
(3C)
60
91
A
Sean Tarry
4
Out Of Your League
(3G)
60
90
A
Fabian Habib
8
Christopher Robin
(3C)
60
89
AT
St John Gray
2
Our Man In Havana
(3C)
60
88
BAT
Fabian Habib
11
Nebraas
(3C)
60
84
A
Sean Tarry
7
Bellagio King
(3G)
60
74
BA
Ashley Fortune
(15)
‹ Previous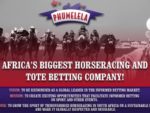 'Be Patient & Avoid Panic' – Phumelela