Shergar is a name that will forever send shivers down the spine of any racing fan.
Will Jennings writes that the Michael Stoute-trained stallion's story is one of global notoriety, a career defined by scintillating highs followed by the chilling low of his theft and murder in 1983.
But it was two years before when the then three-year-old raider soared to Irish Derby glory, being crowned king of The Curragh after a thrilling performance saw him win by four lengths in County Kildare.
And the 1981 showpiece will have its name forever written into Irish folklore for the brilliant commentary of Michael O'Hehir, whose evocative accompaniment to Shergar's late surge will still ring loudly in the eardrums of racing fans.
Stoute's precocious runner started his season with a bang, triumphing in the Guardian Newspaper Classic Trial at Sandown by a mighty ten lengths as he provided a serious statement of his Classics credentials.
And a further win in the Chester Vase saw him arrive at the Epsom Derby with confidence, delivering another stunning performance to win by ten lengths – again – and extend his Surrey hegemony.
"The Derby is a procession – there's only one horse in it," purred commentator Peter Bromley.
"You need a telescope to see the rest!"
Shergar's Classics majesty didn't end there, travelling back to the Emerald Isle later that month as he prepared to duke it out with the likes of Ore, Cut Above and Dance Bid in the Irish Derby.
And Stoute's preparation for the bout was far from ideal, with jockey Walter Swinburn – on board Shergar at Sandown, Chester and Epsom – being suspended following an infringement at Royal Ascot.
So it was to be Lester Piggott who piloted the favourite in Kildare, already a four-time Irish Derby champion after guiding Meadow Court, Ribocco, Ribero and The Minstrel to glory between 1965 and 1977.
The decorated rider needed all his experience at The Curragh, with Shergar lying third in the field with just over three furlongs to go.
But then came his thrilling late charge, winning by a dominant four lengths to continue his searing season on both sides of the Irish Sea.
"He's winning so easily," crowed O'Hehir.

"It's Shergar first – and the rest are nowhere!"
The race remains an unequivocal classic in Irish Derby history, continuing a stunning season for Shergar who would also go on to reign supreme in the King George VI and Elizabeth Diamond Stakes at Ascot the following month.
And that victory prompted further high-profile acclaim, as the rampant three-year-old's performances continued to fill column inches of the national press across the land.
While that widespread coverage soon turned from sweet to sour following Shergar's infamous capture and death two years on, it would do little to diminish his legacy in Ireland, a horse whose 1981 season will live long in the memory for any Flat racing fan.
And the Irish Derby of that year will forever represent his zenith in the country, storming to a brilliant late triumph in yet another classic Curragh instalment.
‹ Previous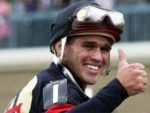 Hall Of Fame Jock Is COVID-19 Positive