Well, that's it for local racing for three solid weeks at least.
Apprentice Tejash Juglall and veteran owner-trainer-breeder St John Gray will go down as the partnership who brought the curtain down on the first pre-lockdown meeting in South African racing history as the Announce gelding Grindelwald bounded to victory in the final race at the Vaal on Thursday.
Well-fancied at 26-10, the Graystone Stud-bred product followed up on his last win to make it three victories in sixteen starts.
Juglall, who was registering his 19th career win, replaced SA log-leader Warren Kennedy who cried off his engagement due to flight complications.
Kennedy certainly deserves the break and it was nice to see a local get a decent chance and the Mauritian-born rider looks set to follow in the well-performed footsteps of his elder brother, Nooresh.
Try as he might, Muzi Yeni did all he could on runner-up We All Chomies (9-1), but the busy Northern Cape season won't forget this season when he pens his autobiography one day.
He spent three months kicking his heels for an indiscretion, and less than  two weeks back in action, the global trauma of COVID-19 blows the stuffing out his comeback. But life's bigger than one jockey and Muzi will have his day in the sun.
The final day also belonged to trainer Mike de Kock, who saddled two winners and 4kg claimer Philasande 'Phila' Mxoli, who grabbed a 40-1 double.
Philasande is probably a notch or two stronger than the average claimer of his level, courtesy of his having competed  in thoroughbred rural races in the Eastern Cape from the age of thirteen. He rode in excess of 90 winners in that domain!
Today, the airwaves go silent on SA racing.
But our good friends North of the Limpopo are racing under lockdown conditions.
Let's support them. Here's the local racecard
The card is thin, but it will be entertaining with some nice SA-breds in action.
The first of seven races is off at 13h30.
Enjoy!
‹ Previous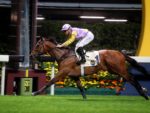 Van Niekerk's Happy Valley Treble