Martin Pakula, the Minister of Racing in Victoria, Australia,  has suggested that racing is currently only guaranteed to continue until Tuesday this week.

Following the National Cabinet meeting (comprising Federal and State leaders) on Sunday where the decision was made to shut a swathe of businesses including restaurants, cafés, gyms, cinemas, clubs and bars, racing could be next if the emergency cabinet decides further immediate action is required.
Their next meeting is on Tuesday, and Pakula said: "Today (Monday) and tomorrow is still the green light but as we've seen in other parts of the economy, this thing is very changeable… We're changing every few days. Enjoy it while we can."
The respected politician acknowledged that racing will inevitably shut down at some stage – hopefully for not too long – but he's unsure when that will happen.
‹ Previous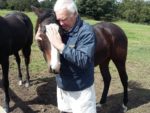 A Man Who Seized Every Day