Even in the fairly recent good old days, Racing Administrators weren't always perfect or the darlings of stakeholders.
The late trainer James Lightheart won the 1995 Cape Derby but was scathing in his opinion of the Milnerton training facilities afterwards.
Lightheart, never shy of controversy, had strong words regarding the standard of training facilities at Milnerton.
"They're disgusting. Nothing ever gets done and it was a nightmare trying to prepare horses like Bushmanland and Western Rocket for big races this summer. We all thought it would be better after amalgamation but it's worse. It's even a battle to get a broken tap fixed. You go to the administration upstairs but they do nothing. We've sat down round a table with them, but they say there's no money."
He continued, saying 'the marketing is just as bad'.
"Look at the Cape Derby. Once upon a time people used to take Met-Derby doubles. This year the first time the race got any real publicity was the day before. There are still new owners coming into the game and there are lots of people still prepared to buy horses. You only have to look at the turnover at the recent Cape sales. But the pity is that people buy horses that break down because of the poor training facilities and then they get out of racing," he said.
Lightheart's sentiments were echoed by trainers like Turffontein-based Gary Alexander, who was at Milnerton for several months during summer.
But the Derby completed a splendid classic double for Lightheart and jockey and now Summerveld trainer, 'MJ'  Odendaal, who four weeks earlier teamed up with Bushmanland to take the Gr1 Argus Guineas at 20/1.
Western Rocket ran in the colours of Mrs Norma Marsh, who was part owner also of Bushmanland.
Talk about a dream summer for some. Western Rocket was the best horse to emerge from the first crop of Jungle Warrior (a son of Fair Season), whose six Gr1 wins made him one of South Africa's outstanding racehorses of the late Eighties and early Nineties. Western Rocket was bred by Saratoga Stud and is the seventh foal and third winner of the unraced Roland Gardens mare Western Rose, who is dam also of Matchem Stakes winner Western Power.
Western Rocket changed hands for just R11 000 at the Cape Yearling Sale in 1993 and has won six of 14 starts for purses of R349 265, excluding the additional Futurity monies for which he is eligible.
The Derby was the fourth Graded stakes win of Western Rocket's career, after the Gr3 JWS Langerman Handicap Futurity and Gr2 Clairwood Park Futurity when he was two, and the Gr2 Computaform Stakes earlier that term.
The Derby win put Lightheart on course for the best season of his career with five feature wins to his credit, although he pointed out that it hasn't been all plain sailing.
‹ Previous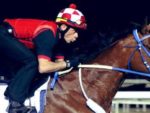 Can You Name This Horse?