Regular Sporting Post reader Cecil Pienaar requested a flashback to the Rothmans Durban July of 2000.
El Picha's success in big races was record setting at the time as he retired as the highest stakes winner in South African racing history.
His famous win in the 2000 Durban July was a standout, and he was the last horse prior to Justin Snaith's Do It Again in 2019 to score back-to -back successes in the Durban showcase.
His win beating Young Rake was considered his finest hour, but he had a few! The Argentinian-bred, selected on a buying trip by the late Terrance Millard, famously only ended up in South Africa by chance, but proved one of the toughest and gamest horses ever to set hoof on African soil.
From 39 career starts, El Picha posted 12 wins and 19 places with highlights including back to back July wins and the 1999 Summer Cup.
Just two months later, Gold Circle and Rothmans of Pall Mall jointly announced in Durban that as a consequence of pending tobacco legislation, the cigarette company would no longer continue to sponsor the July.
Reports at the time said that the decision by Rothmans of Pall Mall to stop sponsoring the Durban July was welcomed by anti-smoking lobbyists.

National Council Against Smoking executive director Dr Jussuf Saloojee said he was "delighted".
He said that sport sponsorship by tobacco companies served only two purposes for the industry:
— to overcome the direct ban on tobacco advertising on television; and
— to associate cigarettes with the glamour, excitement and drama of sport.
Young children learnt to associate cigarettes with sport and sport-people, influencing them to smoke.
Saloojee said any serious attempt to reduce smoking among young people had to include an end to sport sponsorship by tobacco companies.
Evidence published in the influential British medical journal, The Lancet, showed that children who follow Formula One motor racing on television are twice as likely to smoke.
‹ Previous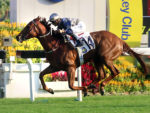 Bonji Tips Aethero Today