'The Candyman' Andrew Fortune has conceded that his ride on Free My Heart, when running third behind El Picha and Young Rake in the 2000 Rothmans Durban July, was 'probably not my finest moment'.
The retired former SA champion jockey was responding to the observation by Sporting Post commentator Gavin that he 'gave Free My Heart too much ground to make up' on a comment posted on The Last Rothmans July editorial.
"I'm the last person who will argue against something that I know is probably a fair assessment," said Andrew in a chat with the Sporting Post on Monday, day 11 of the lockdown.
The gelding Free My Heart won three Gr1 races during the 2000 SA Champions Season.
The top jockey says he was a horse that he was 'lucky to pick up early on' when few realised just how good he was.
"He was a much better miler and was a different horse over that trip. I must admit that I rode a brilliant race on him in the Natal Derby when they cantered and we got up to nab Young Rake on the line. We also won the Nissan Challenge and the Daily News. But the truth is that he was a horse that didn't like being bustled and rushed along. So I rode him accordingly in the July. Maybe it was a combination of general July inexperience and knowing that he liked to be left alone that saw us a bit out of our ground. Today, I probably would have made sure he was two lengths closer. But not many horses win the July from that far off," he observed.
On the general sentiment around the coronavirus lockdown, the charismatic Fortune said that it was obviously 'a much bigger situation than racing'.
"We all want to get back racing and to normality as we see it as soon as possible. But my message is to just love your families and be thankful for the small mercies. It's entirely by God's grace how this pandemic evolves. Whether we race in a week, a month or six months – who knows? It's important – but it's not the most important thing," he concluded.
‹ Previous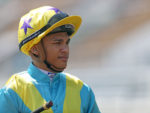 Sad Blow To Cape Jock's Aspirations