There is absolutely no doubt that Gold Circle, and indeed the Racing and Breeding industry at large, is facing a massive fight for survival and to position ourselves with the best chance for recovery over time, we have had to take drastic steps to reduce expenditure in the immediate term," says Gold Circle CEO Michel Nairac.
"The Board has with immediate effect waived all Directors' fees and salaries for Executives have been reduced by up to 50%. In addition, the Company has been forced to cut it's Stakes Pot by approximately 50%, a major blow for Champions Season 2020," he added.
"Our approach to implementing the stakes reduction has been to significantly reduce monies available for the Feature races so as to maintain minor race stakes at a reasonably acceptable level," said Racing Executive Raf Sheik.
"Aside from the reduced prize money, we are doing everything possible to ensure the quality of Champions Season, hence our decision to delay the Season by a month. This will allow for prep races to take place and for trainers to have their charges absolutely ready and fit for the principal events," added Sheik.
Nairac concluded by saying, "We obviously regret having to resort to such drastic measures. Gold Circle is fully aware of the negative impact these will have on all stakeholders and the breeding industry in particular. Breeders are the supply source of the future and the long term sustainability of racing in this country depends on their survival. But, for now, we need to get local and international revenues flowing again and for that to happen, we need to start racing again."
Press release by Gold Circle on 15 April 2020
‹ Previous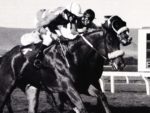 A Wacky Wednesday Winder