TAB has amended the winning combinations and payouts for the Place Accumulator and Jackpot on the Jagersro race meeting today as a result of the incorrect tote favourite being declared in Race 6.
No 9 Jolie Danseur, who finished unplaced, was erroneously declared tote favourite when, in fact, the tote favourite was the winner, No 4 J.C.Royalty Boko.
There were two scratchings in the race and both qualified for the Jackpot and Place Accumulator once the tote favourite was corrected. All Jackpot and Place Accumulator winners have been paid the correct amounts.
TAB apologises for the error and will take appropriate disciplinary action following an inquiry.
Press release by TAB on 9 April 2020
‹ Previous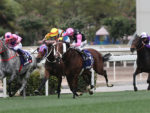 COVID-19 Means No Raiders