Sporting Post commentator Mighty Crystal suggested that our readers have made some great observations and reflections  in the 'Great Finishes – We All Remember A Few' editorial by William Milkovitch.
Mighty Crystal says that one finish that stands out for him was between National Emblem and Special Preview at Gosforth Park.
"They were young 3yo's at that stage with big reputations…", he writes.
Andrew Bon says that it doesn't get much more nail biting than this clash. Two of the best 3yo horses we have seen in a very long time.
To quote Joe Soma, " They say that I have not qualified to get into the Rothmans July, well there is no better way to prove your worthiness, than by beating the favourite for the July"
Our sincere thanks to top SA racing television media man, Andrew Bon for the clip!
‹ Previous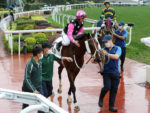 He's Earned Near R247 Million Rand!