The first racemeeting back after the lockdown is scheduled for Kenilworth on Workers Day, when an eight-race programme is carded.
The government green light is still awaited, but the industry is prepared to go ahead behind closed doors and under strict protocols. A directive is expected by close on Thursday.
The Kenilworth first is off at 12h35.
TAB telephone customers are reminded that the telephone and customer care call centres are operational from 8am daily during lockdown and TAB will increase the remote capacity of both if South African horseracing gets the green light to resume behind closed doors.
In addition, all TAB and Betting World sites are fully operational, which has enabled accountholders to bet from early morning until late at night during lockdown on races from Australia, Hong Kong, Sweden and the USA.
There is a Turffontein meeting on Saturday, Greyville on Sunday and a Fairview fixture on Monday.
First timer/ rested comments for Kenilworth on 1 May:
1 12:35 – SOCIAL DISTANCING MAIDEN JUVENILE PLATE
1 BENJAMIN C Bass-Robinson: Will need a run
2 CHAUELS CAMELOT C Bass-Robinson: Will need a run
3 CRACK IT OPEN V H Marshall: Shows good work at home, place chance
4 EMPERORS DECREE W G Prestage: Small horse has speed
5 FALCON C J Lensley: Decent horse
6 HYDE PARK S J Snaith: Nice type, strong field, each way chance
7 PICTURE THE MOMENT V H Marshall: Will need the run
9 TICKET TO RIDE G W Ennion: Nice speedy colt, has not galloped
11 CAYA COCO G S Kotzen: Will need the run
12 SOVEREIGN ROSE G S Kotzen: Quick, will need the experience
13 SHANGAAN S J Snaith:  Will be green on debut. Will need a run or two before we see the best of him
14 AL'S LASS B Crawford: could run well, if not too green.
2 13:10 – WASH YOUR HANDS MAIDEN PLATE
3 SHINNECOCK S J Snaith: Has not been on the grass since last run, each way  chance
9 RAINCAP (AUS) B Crawford: May need the run
10 SAKURA TRICK B Crawford: Place chance
12 KHAL DROGO W G Prestage: Will need the run
3 13:45 – STAY SAFE WITH A MASK MAIDEN PLATE (F & M)
1 LOOKS LIKE MAGIC G S Kotzen: Should be the first four
12 RIVER CAFE V H Marshall: Shows good speed at home, looking for further
15 JUST JOYCE V H Marshall: Will need the run and further
4 14:20 – BETTINGWORLD.BET MAIDEN PLATE (F & M)
1 CAMINO PALMERO B Crawford: Working well, place chance
11 NDIKHALELE C J Lensley: Decent horse
6 15:30 – TAB TELEBET 0861 000 822 MR 74 HANDICAP
12 POWER GIRL A D Steyn: Not 100% fit
8 16:40 – COVID-19 NATIONAL CRISIS HELPLINE 0800 029 999 FM 82 HANDICAP (F & M)
2 WALLIS SIMPSON B Crawford: Working well, place chance
Comments by courtesy of Phumelela Publishing
‹ Previous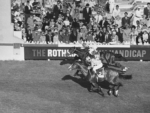 A Proud Son