It must have felt like the good old days for Lyle Hewitson this weekend as he came away from the two race meetings at Nakayama racecourse in Japan with four winners.
The South African champion jockey won two races on Saturday and then scored another double on Sunday.
Tabnews reports that on Saturday he won Race 3, a Maiden plate over 1200m, on Daishin Wit and Race 8, a handicap over 1800m, on Aoten.
Hewitson had an armchair ride on Daishin Wit for trainer Michihiro Ogasa, the 1.2 hot favourite easily beating Shonan Samon by five lengths.
He had to work a little harder in Race 8 on Aoten, who went off at odds of 2.7. In this event Hewitson got up to beat Hache d'Or by 0.50 lengths. It was only close home that Aoten got the better of his rival.
Hewitson looked to have a plum ride in the third on Sunday, a Maiden Plate over 1800m, where he rode Last Man, who started at 1.4.
As expected, Hewitson was not hard pressed to win this one and came away to beat Gold Allure by 3.50 lengths.
His second victory came up in Race 9 over 2400m on the dirt, where he guided Masahaya Nice to a 1.75-length victory over Hitchcock. The son of 2010 Investec Derby and Prix de l'Arc de Triomphe winner Workforce, went off at odds of 4.7. The pair drew clear of the others with around 400m to run but Masahaya Nice got the upper hand close home and drew off to win well.
Hewitson almost caused a major upset in the final race of the day when he was touched off a neck on Narino Major, who went off at 24.1, by 2.1 favourite Apollo Bibi.
He has now ridden 13 winners and 32 places in his 97 rides in Japan.
His rides have earned 265,047,000 yen (R43,865,278) in prize money.
‹ Previous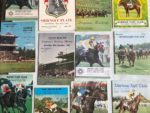 Anybody Miss The Old Racecards?